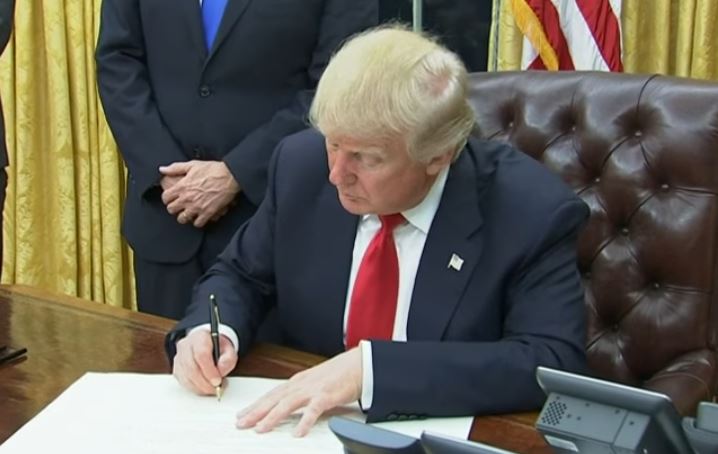 The Supreme Court on Tuesday upheld the Trump administration's travel ban mostly targeting Muslim-majority countries.
The controversial ban had been challenged as an improper use of the president's authority to suspend the entry of foreign nationals into the United States, and that President Donald Trump's documented instances of personal bias against Muslims tarnished the executive order establishing the travel ban as a violation of the First Amendment's Establishment Clause.
In a lengthy 92-page ruling authored by Chief Justice John Roberts, the 5-4 conservative majority upheld the administration's ban.
First the court ruled that President Trump's executive order was a valid exercise of authority under the 8 U.S.C. §1182(f), the "Inadmissible aliens" statute codified into federal law. The court noted:
§1182(f) exudes deference to the President in every clause. It entrusts to the President the decisions whether and when to suspend entry, whose entry to suspend, for how long, and on what conditions. It thus vests the President with "ample power" to impose entry restrictions in addition to those elsewhere enumerated in the [Immigration and Nationality Act].
In ruling against the State of Hawaii's claims that President Trump's executive order was motivated by anti-Muslim animus, the Supreme Court noted that the president and many of his advisers had indeed expressed such sentiments–both during the 2016 presidential campaign and during the president's time in office–but ruled that those statements were not significant when trying to assess "a matter within the core of executive responsibility."
According to the court, those anti-Muslim bias considerations simply are not enough to overcome the travel ban's facially neutral legal posture. In other words, because the ban itself does not contain explicit anti-Muslim bias as written, the court decided to trust the word of the administration's attorneys that the ban was not simply a pretext and discounted the evidence provided by those who opposed the ban. The decision notes:
[The ban] is expressly premised on legitimate purposes and says nothing about religion. The entry restrictions onMuslim-majority nations are limited to countries that were previously designated by Congress or prior administrations as posing national security risks. Moreover, the Proclamation reflects the results of a worldwide review process undertaken by multiple Cabinet officials and their agencies. Plaintiffs challenge the entry suspension based on their perception of its effectiveness and wisdom, but the Court cannot substitute its own assessment for the Executive's predictive judgments on such matters.
[image via Alex Wong / Getty Images]
Follow Colin Kalmbacher on Twitter: @colinkalmbacher
Have a tip we should know? [email protected]