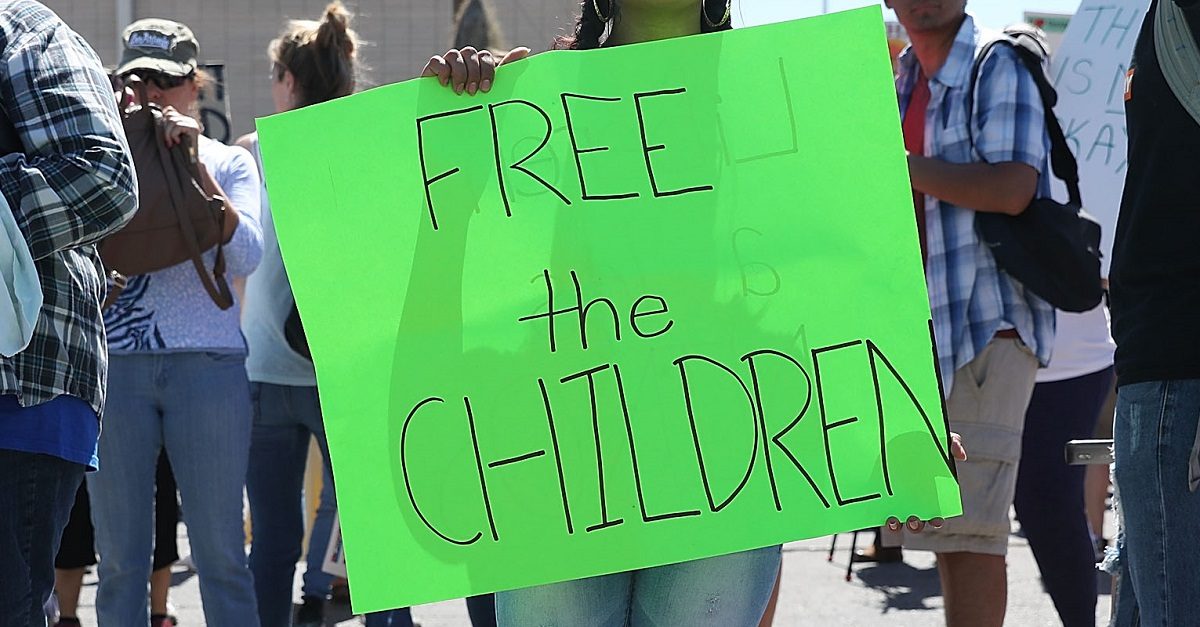 A lawsuit filed Wednesday evening on behalf of three families trying to seek asylum in the United States challenges the Trump administration's practice of separating families at the border. This alleged separations took place prior to President Donald Trump's executive order calling for an end to the practice, which was connected to the administration's zero tolerance prosecution policy for illegal immigration.
Notably, the lawsuit alleges that in one of the cases, the parent wasn't even being prosecuted. The mother, identified in court documents as M.G.U., says in the complaint that she and her sons, ages 13, 6, and 2, went to a port of entry in San Ysidro, California in accordance with federal law, and applied for asylum after fleeing from Guatemala due to death threats. M.G.U. claims that after speaking with federal officials, she received a "positive credible fear determination," and that she and her kids were going to be released from the facility where they were all being detained.
Upon release, however, M.G.U. was sent to Texas and her children were sent to New York, the lawsuit says. Officers told her she needed to speak to a judge, and that the separation would last a week at most. Despite this, she claims, after nearly a month she still hadn't spoken to a judge and was still separated from her children. While she has been able to speak to them on the phone once or twice a week, she still has no idea how long the separation will last, she claims.
When asked about this, Customs and Border Patrol said they cannot comment on pending litigation, but a source there said that it's typical for Immigration and Customs Enforcement (ICE) to maintain custody of people in credible fear cases.
Law&Crime also reached out to ICE, and the Departments of Homeland Security and Health and Human Services, but they did not respond.
The other two plaintiffs in the case do not claim that they followed standard protocol, but still question how their situations have been handled. Both claim that they fled to the United States from Central America and crossed the Mexican border, but then sought assistance from immigration officials, who promptly arrested them. In the case of father A.P.F., he was separated from his daughter after being charged, and pleaded guilty to the misdemeanor charge of improper entry by an alien "[o]n June 5 or 6" and was sentenced to time served. Weeks later, he is still being held and doesn't know where his 12-year-daughter was taken, the lawsuit says.
Mother E.F. pleaded not guilty, but a judge convicted her of improper entry and similarly sentenced her to time served. She too still remains in custody and is applying for asylum, but weeks later is still being kept apart from her son, who is 9, according to the complaint.
The lawsuit claims that the practice of separating parents from children "is designed, intended, and administered as a means of deterring all immigration, even legal immigration by those with a right to seek asylum. It calls the practice an excessive punishment that violates Fifth Amendment due process rights, and seeks for the court to order that they be reunited with their children.
[Image via Joe Raedle/Getty Images]
Have a tip we should know? [email protected]