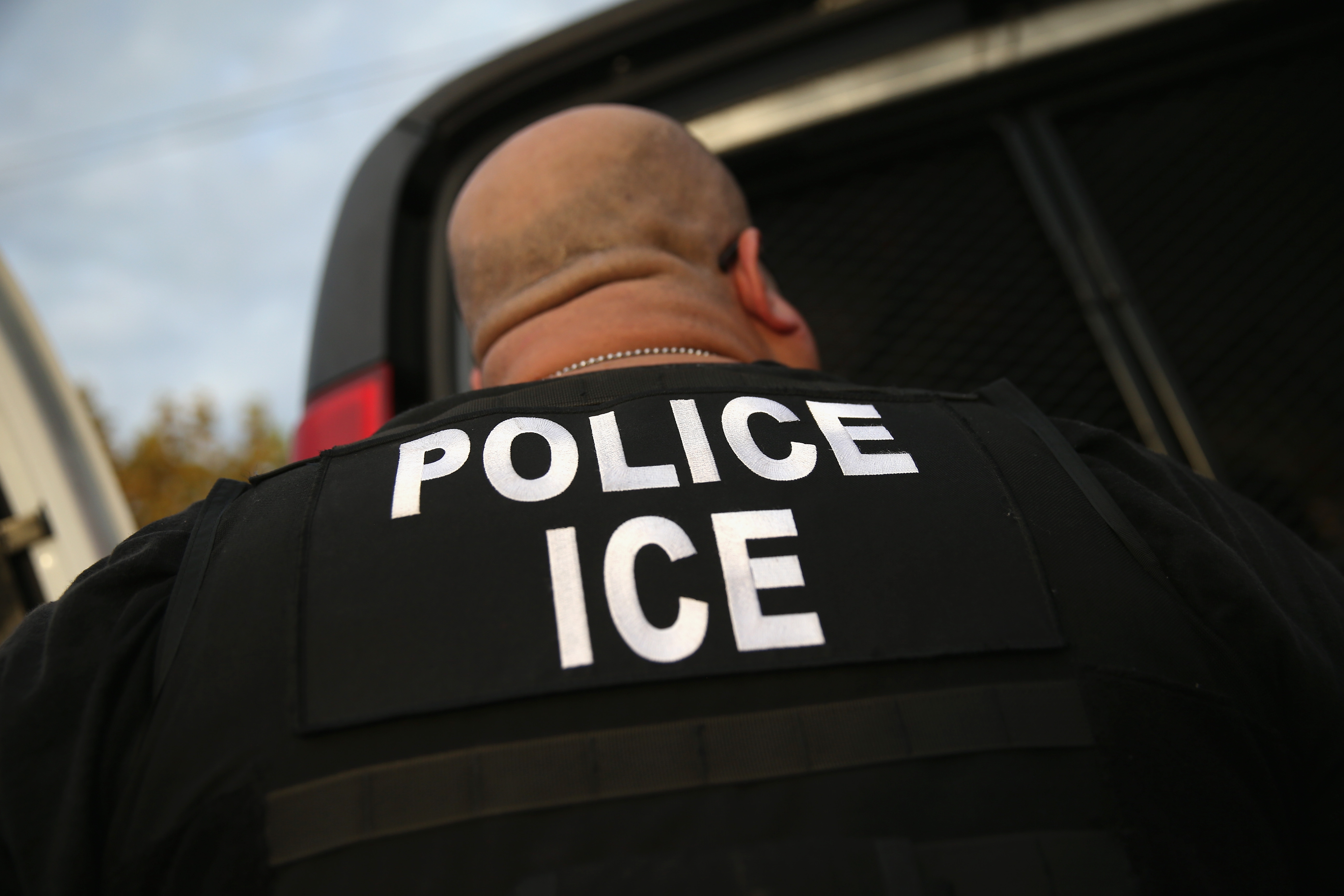 A judge in Massachusetts is under investigation by federal authorities for possibly helping an undocumented immigrant evade U.S. Immigration and Customs Enforcement (ICE) earlier this year.
On April 2, Newton District Judge Shelley M. Joseph was hearing the case of Jose Medina-Perez, who had been arrested on a Pennsylvania drunk driving warrant and suspicion of drug possession. The undocumented man, who originally hails from the Dominican Republic, was also subject to an ICE detainer request.
According to the Boston Globe, Medina-Perez's defense attorney asked to approach the bench. There, Judge Joseph and the two attorneys working on the case had a brief discussion.
"I don't think it's him," Middlesex County Assistant District Attorney Shannon Jurgens says, in audio obtained by the Globe.
Medina-Perez's defense attorney David Jellinek then laid out his client's predicament:
ICE is convinced that this guy [inaudible]. I went through and did the research. There is 13 [inaudible] posts to social media. So something is badly [inaudible]. My client denies that it's him. ICE will pick him up if he walks out the front door. But I think the best thing for us to do is to clear the fugitive issue. And release him on personal [inaudible].
"I don't think arguing ICE is really my–" Jurgens begins as Jellinek cuts her off and answers, "Right."
The conversation is then garbled and inaudible for a few seconds before Judge Joseph speaks.
"If you need more time to figure this out. Or until tomorrow," she says.
Jurgens then responded, "There is a detainer attached to my paperwork. But I felt like that's separate and apart from what my role is."
"ICE is going to get him," the judge noted.
An ICE agent was, in fact, waiting in the wings and ready to start deportation proceedings that day.
"What if we continue?" Joseph asked. Then Jellinek inquires as to whether the parties are "filming." Then Joseph instructed one of her clerks to disable the courtroom's audio recording device in order to go "off the record." The next 58 seconds of conversation then passed by without being recorded.
The Globe reports that recording then commenced and that the prosecutor asked Judge Joseph to drop the warrant matter but affirmed that the state would indeed press forward on the drug charge. This would allow Medina-Perez to leave because a minor drug charge wouldn't require the man to remain in custody. According to the Middlesex County District Attorney's Office, the drunk driving warrant charge was dropped because Medina-Perez didn't look like the man in the Pennsylvania mugshot.
The judge then allowed Medina-Perez to head downstairs with his lawyer and an interpreter because the undocumented man had "some property" there.
As the brief arraignment drew to a close, a court employee informed the judge that "there was a representative from ICE here … requesting permission to visit lock-up."
Judge Joseph responded, "I'm not going to allow them to come in here."
Shortly after that, Medina-Perez allegedly left the courthouse through a downstairs back door.
According to several anonymous sources cited by the Globe, a grand jury has been empaneled and is looking into Judge Joseph and various courthouse staff in order to ascertain whether any federal laws were broken on the day in question.
To be clear, officials in Massachusetts are not required to honor ICE detainer requests–and holding a person on nothing more than an ICE detainer is expressly illegal in The Bay State. Newton itself is a sanctuary city and has pledged not to round up immigrants for ICE agents.
But former U.S. attorney Michael J. Sullivan says that if Joseph and others helped Medina-Perez evade federal authorities it could qualify as obstruction of justice.
It's also alleged that Judge Joseph violated one or more local judicial rules. One rule states that court personnel shouldn't help or hinder federal agents. Another rule requires that all sessions–unless overseen by a clerk–be recorded. By turning off the recorder, Judge Joseph appears to have at least violated the second rule.
Now those missing 58 seconds could come back to haunt her.
[image via John Moore/Getty Images]
Follow Colin Kalmbacher on Twitter: @colinkalmbacher
Have a tip we should know? [email protected]