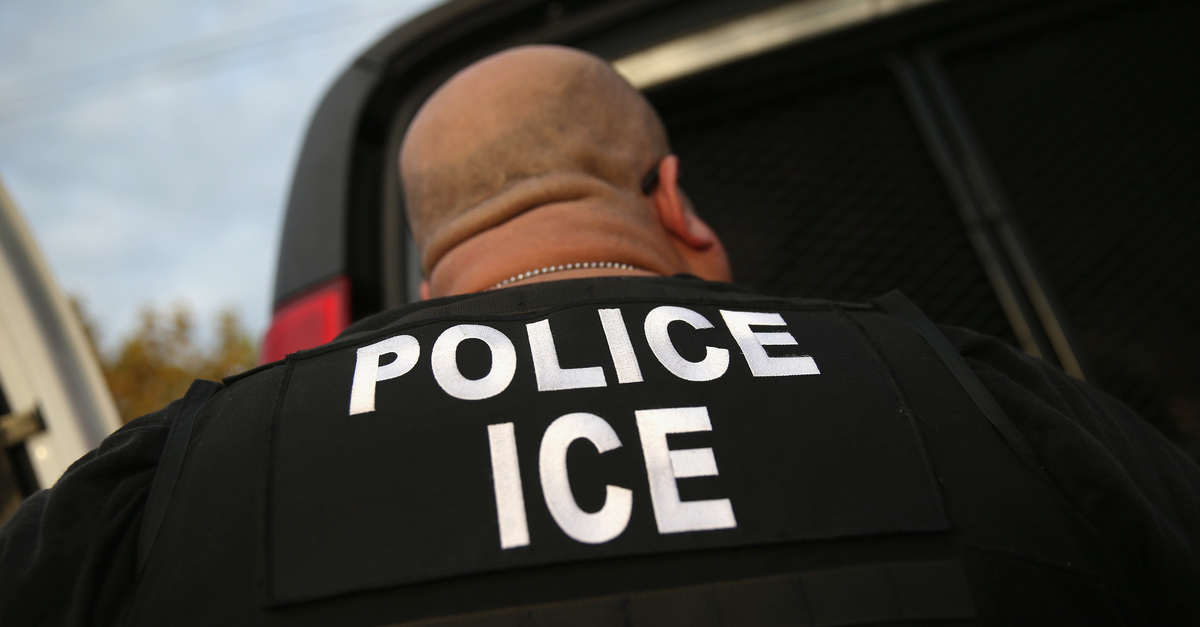 Immigration and Customs Enforcement (ICE) agents told hundreds of immigrants to attend court proceedings on Thursday–or risk being deported. Turns out many such proceedings aren't happening at all because the court dates provided to those immigrants were fake, immigration attorneys say.
According to CBS News, the fake court date phenomenon has occurred in Illinois, Florida, Texas, and Virginia at least. Immigrants in those states were issued a Notice to Appear (NTA) for hearings that were scheduled on January 31.
An NTA is a charging document typically issued by U.S. Customs and Immigration Services (USCIS) and delivered by ICE agents. According to USCIS, "issuance of an NTA commences removal proceedings against" an undocumented immigrant. Essentially, it's the first official step on the way toward removal or deportation proceedings.
Immigration attorneys say they called the courts to confirm the dates for their clients but learned that no such hearings were actually scheduled on January 31.
Brian Casson, a Virginia immigration attorney, rubbished the decision to issue those apparently false NTAs.
"There will be another episode of mass confusion in the immigration courts [Thursday] as a result of the DHS's decision to issue Notice to Appear with fake immigration court dates," Casson told CBS.
On Tuesday, the American Immigration Lawyers Association issued a practice alert titled, DHS Issuing NTAs with Fake Times and Dates.
This apparently isn't the first time the falsely-dated NTAs have been sent either.
Prior NTAs reportedly have been sent out instructing immigrants to appear in court on weekends and at midnight–when courts are closed–and on dates that actually don't even exist on the calendar–like September 31, .
"ICE just started handing out NTAs and hand-writing a date on there," Texas-based immigration attorney Michael Wirz explained during an interview with Law&Crime. "So, people would just show up to court and find out that the NTA hadn't actually been filed."
Those fake notices can be traced back to a recent Supreme Court decision.
In the case of Pereira v. Sessions, eight justices ruled that ICE had to send immigrants NTAs containing times and dates in order to legally interrupt their continuous residency period. Under U.S. immigration law, immigrants who have lived in the country for 10 years are afforded a certain legal residency status. Receiving an NTA can stop the 10-year time frame.
Prior to Pereira, ICE had a habit of sending immigrants NTAs without any court information on them whatsoever. Instead the notices would simply include "TBD." The high court didn't approve of this practice and many immigration lawyers–as well as some lower courts–interpreted the Pereira decision as something of a blanket invalidation for recently-issued NTAs.
Wirz explained the somewhat limited impact of that decision:
The Supreme Court said that a notice to appear–immigration's form of an indictment–without a date and time isn't an NTA. And if it's not an NTA then that is grounds for termination–which basically means the case should be closed and the person should be re-served with a valid NTA. Some courts were terminating the NTAs. But most judges were just saying, "You know what, I'm not gonna touch this until I get some clarification."
That clarification came last August when the Board of Immigration Appeals (BIA) issued guidance on Pereira.
"The board came out with a decision that said an NTA with a court notice would cure the defect," Wirz noted.
That doesn't mean people aren't still being harmed by the process of receiving NTAs with fake court dates.
"I'm surprised they're doing this again. People are showing up to court when they don't have to," Wirz noted. "It's just kind of a pain in the ass."
[Image via John Moore/Getty Images]
Have a tip we should know? [email protected]