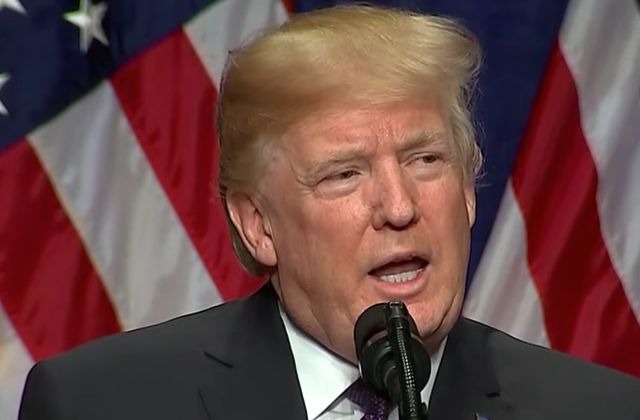 President Donald Trump has expressed interest in a "clean" legislative fix to save the Deferred Action for Childhood Arrivals (DACA) program, according to a corrected transcript released by the White House today.
Yesterday afternoon, Trump met with politicians from the Democratic and Republican parties for a televised discussion of immigration-related priorities. At one point, Senator Dianne Feinstein (D-CA) asks:
What about a clean DACA bill now, with a commitment that we go into a comprehensive immigration reform procedure? Like we did back — oh, I remember when Kennedy was here and it was really a major, major effort, and it was a great disappointment that it went nowhere.
To which Trump replies, "I remember that. I have no problem…We're going to do DACA, and then we can start immediately on the phase two, which would be comprehensive."
Feinstein seized upon Trump's openness to the idea of a clean DACA bill (i.e. a bill that protects DACA beneficiaries ("Dreamers") without any additional preconditions–such as funding for Trump's much-promised border wall) and attempted to pin the president down by solidifying the commitment. She asked, "Would you be agreeable to that?"
According to the initial transcript released by the White House, Trump replied, "I think a lot of people would like to see that, but I think we have to do DACA first."
In the newly-released transcript, Trump says, in full, "Yeah, I would like — I would like to do that. Go ahead. I think a lot of people would like to see that, but I think we have to do DACA first."
Trump's reply–regardless of the transcript–so spooked House Majority Leader Kevin McCarthy (R-CA) that he said, "Mr. President, you need to be clear though." This prompted a lengthy back-and-forth between Feinstein and McCarthy–which quickly went off the rails of clarity.
Trump eventually interjected, siding with Feinstein again. He said, "I think what we're all saying is we'll do DACA and we can certainly start comprehensive immigration reform the following afternoon. Okay?"
It may not be as clear as McCarthy–or Feinstein–wants, but this is the most significant commitment to salvaging DACA as a program on its own from Trump so far.
[image via screengrab/ABC]
Follow Colin Kalmbacher on Twitter: @colinkalmbacher
Have a tip we should know? [email protected]