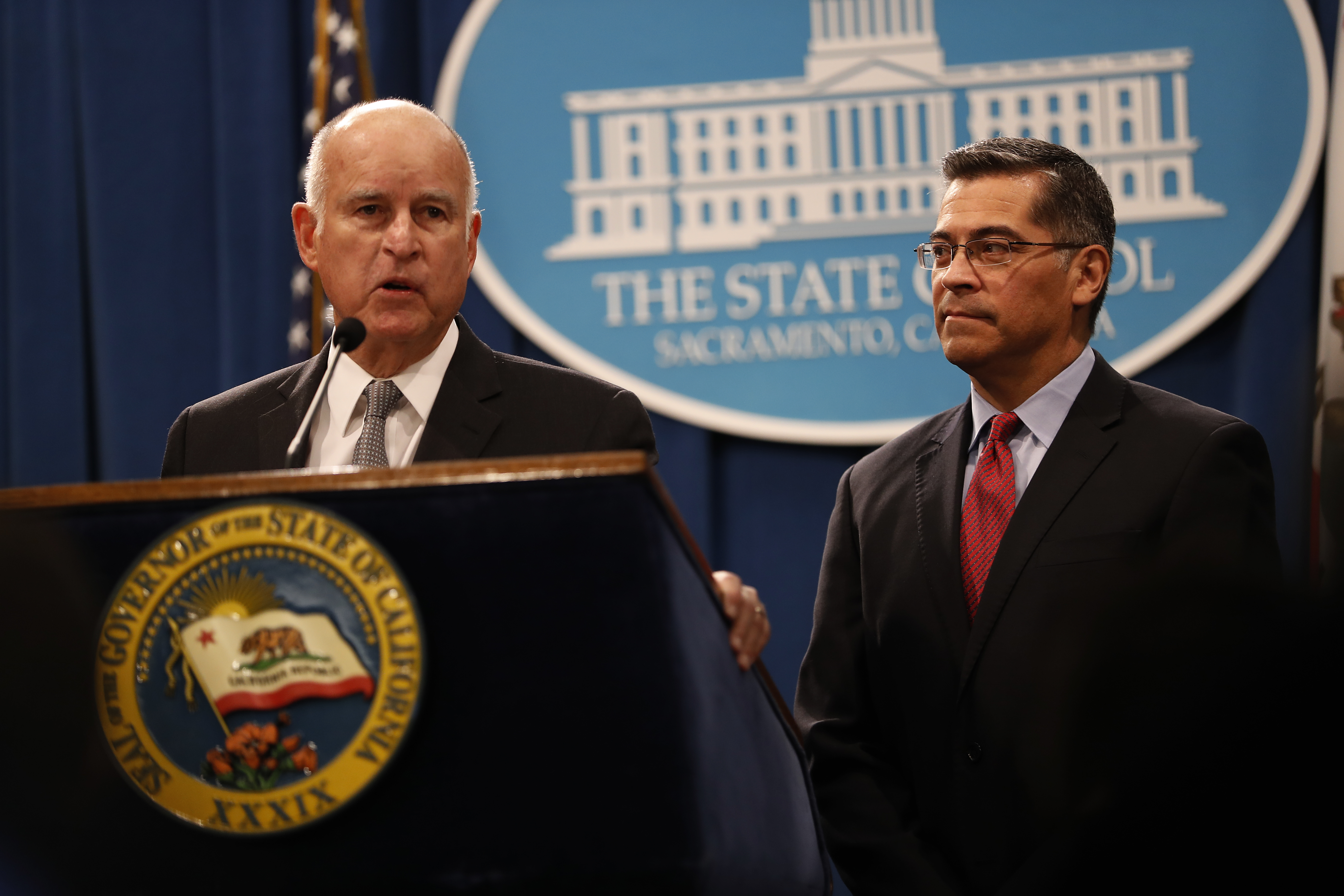 California Governor Jerry Brown furiously denounced Attorney General Jeff Sessions on Wednesday while also signaling his state's willingness to go to "war" with the Trump administration over immigration policy.
Brown's comments regarding Sessions were made in response to the perennially embattled attorney general's recent speech to law enforcement officials in California.
During that speech, given at a California Peace Officers Association meeting in Sacramento, Sessions bemoaned California's general status as a sanctuary state, complaining that multiple state laws make it difficult for immigrants to be deported.
Sessions also pointedly wagged a rhetorical finger at the mayor of Oakland, California for sabotaging deportation sweeps planned by Immigration and Customs Enforcement ("ICE") agents by tipping off the would-be deportees.
Sessions said, of Oakland Mayor Libby Schaff, "How dare you? How dare you needlessly endanger the lives of law enforcement just to promote your radical open borders agenda?"
To which Brown replied:
What Jeff Sessions said is simply not true and I call upon him to apologize to the people of California for bringing the mendacity of Washington to California.
Brown also dinged Sessions as someone who "act[s] more like Fox News than a law enforcement officer."
Sessions' Department of Justice filed a lawsuit against the Golden State on Tuesday, alleging that three recently-enacted California laws deliberately interfere with federal immigration policies and prerogatives.
Speaking to reporters on Wednesday, Brown fielded the following question: "You called this an act of war from the federal government."
In response, Brown paused and considered–and with his aura smiling–he said: "An act of war? That's pretty strong. But I reincorporate that comment."
The reporter then pressed on, asking whether Brown and the State of California would retaliate against the lawsuit. Brown, who famously almost never frowns, came close to it, before replying in the negative. He said:
We are a state of laws. We're going to observe the law. The attorney general has basically thrown the gauntlet down and done it in a highly-politicized way.

This has never happened before—to my knowledge—in the history of California. So, the attorney general's coming out here, gives a speech, 10 minutes, then high-tails it back to Washington. What does that do?

That's not creating the comity that a state and the federal government need. So, yeah, this is a very aggressive act on the part of the Trump administration.

It's not right. It won't stand. And, as I say, I'm sure this lawsuit has more longevity than the Trump administration itself.
[image via Stephen Lam/Getty Images]
Follow Colin Kalmbacher on Twitter: @colinkalmbacher
Have a tip we should know? [email protected]