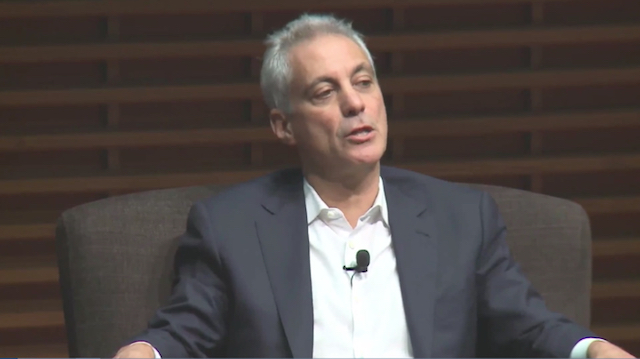 CHICAGO (AP) — Chicago Mayor Rahm Emanuel on Friday said the city will sue the federal government in defense of its status as a so-called sanctuary city and against threats to withhold U.S. grant funds.
Emanuel told "Connected to Chicago" on WLS-AM the city will be in federal court Monday arguing grants can't be withheld from cities the administration says aren't cooperating enough with U.S. Immigration and Customs Enforcement officials. The interview will air Sunday.
Attorney General Jeff Sessions announced last month local governments would lose the money if they do not give advance notice when immigrants in the country illegally are about to be released from custody. He also wants immigration agents to have access to local jails.
Officials say Chicago this year expects to receive $3.2 million in Byrne Justice Assistance Grants. The money would mostly be used to buy police vehicles.
"We're not going to actually auction off our values as a city, so Monday morning the City of Chicago is going to court; we're going to take the Justice Department to court based on this," he said. "We find it unlawful and unconstitutional to be, as a city, coerced on a policy."
Sessions this week announced letters were sent to four cities struggling with gun violence, telling them they would not be eligible for a program that provides money to combat drug trafficking and gang crime unless they follow through on his suggestions. The cities were Baltimore, Albuquerque, and Stockton and San Bernardino in California.
None of the four has declared itself a "sanctuary city," a term associated with ordinances aimed at shielding illegal immigrants.
In a letter to Sessions, Republican Albuquerque Mayor Richard Berry denied his city is a sanctuary for immigrants living in the country illegally and said he has been trying to work with immigration authorities since taking office in 2009. Berry said, Immigration and Customs Enforcement staffing at the prison transport center fell in recent years.
Chicago law prohibits police from providing Immigration and Customs officials access to people in police custody, unless they are wanted on a criminal warrant or have serious criminal convictions.
Local police are also barred from allowing ICE agents to use their facilities for interviews or investigations and from responding to ICE inquiries or talking to ICE officials about a person's custody status or release date.
Authorities contend the policy helps encourage residents of the immigrant community to inform police when they are victims of crimes.
[image via screengrab]
Have a tip we should know? [email protected]