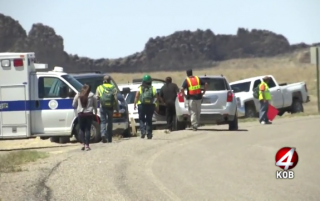 Less than two days after Ashlynne Mike and her brother Ian were reported missing, a man who is allegedly responsible for the abduction and the girl's death was apprehended. Ashlynne, 11, and her 9-year-old brother were taken Monday afternoon when a man now believed to be Tom Begaye pulled up in a maroon van and reportedly asked them if they needed a ride, KOB-TV reported.
According to a statement from the Navajo Nation, her brother, Ian Mike, said Begaye drove him and Ashlynne to Shiprock Monument in New Mexico, where he let Ian out of the car. Begaye then allegedly walked off with Ashlynne, later returning alone before letting Ian go. Ian was later found by a driver along a road south of the monument. A missing person report was filed for the two children on Monday evening, just before Ian was found. Ashlynne's body was found Tuesday morning.
Begaye is scheduled to be arraigned in front of a U.S. Magistrate judge on Wednesday.
[screengrab via KOB-TV]
Have a tip we should know? [email protected]