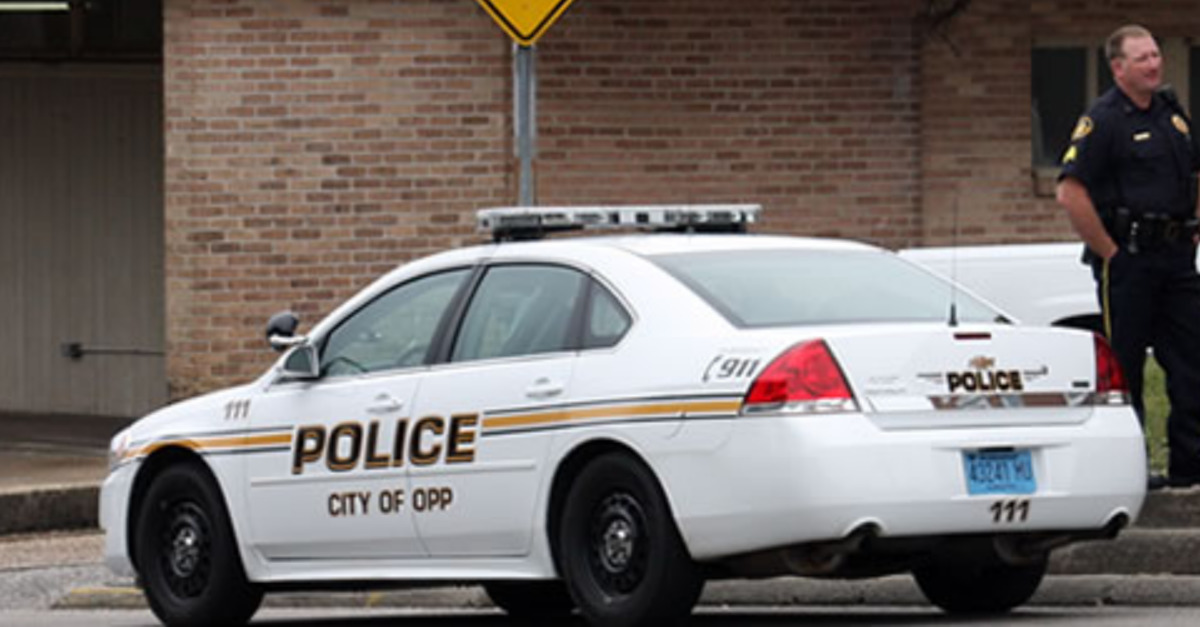 A police department in Alabama blamed a recent uptick in youth-related homicides on the embrace of Satan.
According to the Associated Press, a since-deleted Facebook post by the Opp Police Department (OPD) called out community members for their apparent rejection of God's light after a two gun-related killings occurred in Covington County–which sits on the Yellowhammer State's border with Florida.
The all-caps evangelizing also took stock of the year's overall homicide rate, noting that there have been five murders in the small, rural county over the course of 2018.
THIS PAST SUNDAY, A YOUNG MAN WAS SHOT AND KILLED IN KINSTON. MONDAY NIGHT, A MOTHER WAS SHOT AND KILLED IN NORTHERN COVINGTON COUNTY. THERE HAVE BEEN FIVE MURDERS IN COVINGTON COUNTY IN 2018. THESE MURDERS HAVE BEEN DONE BY OUR YOUNG PEOPLE. THIS IS HAPPENING BECAUSE WE HAVE TURNED AWAY FROM GOD AND EMBRACED SATAN. WE MAY HAVE NOT MEANT TO DO SO BUT, WE HAVE. IT IS TIME TO ASK FOR GOD'S HELP TO STOP THIS. IT IS TIME TO BE PARENTS AND RAISE OUR CHILDREN, NOT HAVE THEM RAISE US. IT IS TIME TO FULLY SUPPORT LAW ENFORCEMENT AND STAND BY THE OFFICERS AND DEPUTIES THAT ARE FAR TOO OFTEN HAVING TO WALK INTO THESE DANGEROUS SITUATIONS AND CLEAN UP THE MESS. FRIENDS, IT IS TIME TO STAND UP AND BE RESPONSIBLE, GROWN UP LEADERS IN OUR COMMUNITY. BOTTOM LINE, THERE ARE SHEEP; THERE ARE WOLVES AND THERE ARE SHEEP DOGS. WHICH GROUP DO YOU BELONG TO ?
The Wisconsin-based Freedom From Religion Foundation ("FFRF") immediately called foul on the police department's call to faith.
"[I]t is highly illegal for a government entity, such as a police department, to endorse or deride religious belief," a press release notes. "The Opp Police Department's post does both, urging readers to 'ask for God's help' while blaming those who have 'turned away from God' and 'embraced Satan' for a rise in violent crime. …It is the height of hypocrisy to call for a reduction in crime through an act that itself breaks the law."
The Establishment Clause of the First Amendment generally prohibits government entities from "respecting an establishment of religion."
A separate open letter from the non-profit called the police department out for seemingly attaching greater value to a religious perspective.
"It is negligent for the department to spread a message of prejudice against those who choose not to believe in or worship a god," the foundation noted. "The department certainly has no data to support its theory that a rise in violent crime is caused by those choosing to turn away from god belief. Numerous scientific studies prove otherwise."
FFRF also takes the opportunity to needle the OPD by citing various studies supporting the idea that less religious societies tend to be less violent–and sustain a generally higher quality of life–than religious ones.
"One such study explicitly counters the police department's assertion that violent crime is on the rise because people have 'turned away from God,'" the press release notes. "The study shows that the states with the highest murder rates, including Alabama, tend to be highly religious, but the states with the lowest murder rates tend to be among the least religious in the country, such as Vermont and Oregon."
Law&Crime reached out to the OPD for comment on this article but no response was forthcoming at the time of publication.
[image via OPD]
Have a tip we should know? [email protected]