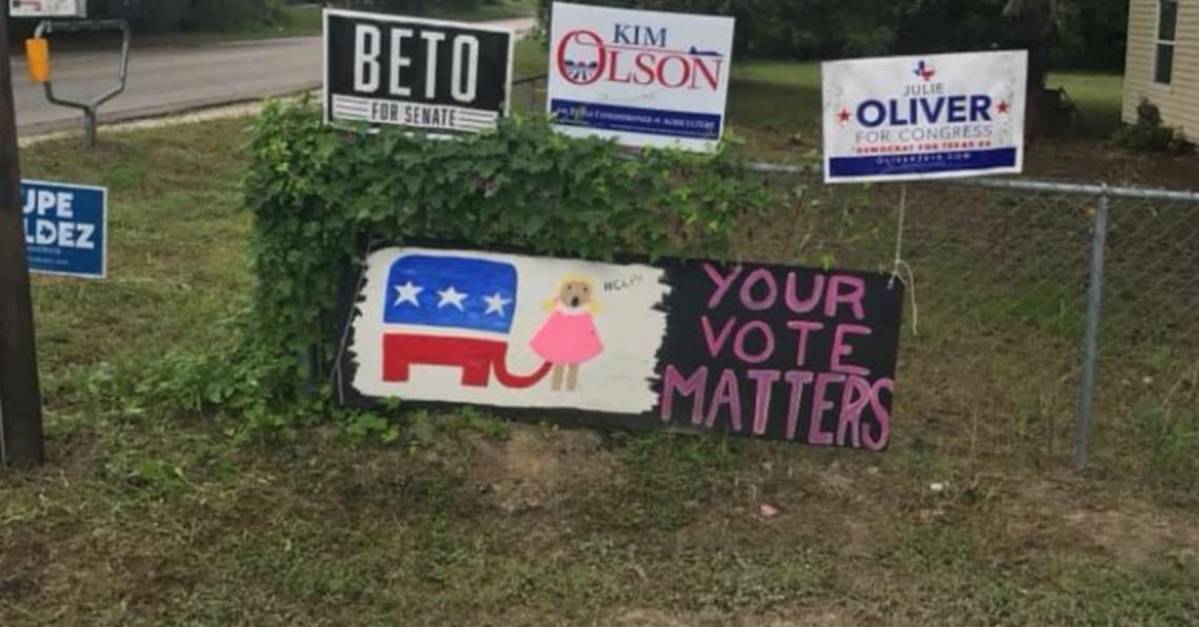 A political yard sign in Central Texas was confiscated by local authorities last week after it upset the feelings of a Republican Party official in the Lone Star State.
The sign in question was homemade and didn't offer support for any particular candidate. Rather, the sign–hand-painted in red, white and blue–featured an elephant with its trunk up a woman's skirt. The woman in the painting had word bubble with the word "Help." The sign was captioned, "Your vote matters."
Other signs in the same yard promoted Democrats running for state and local offices, including gubernatorial candidate Lupe Valdez, agricultural commission candidate Kim Olson, U.S. House candidate Julie Oliver and U.S. Senate candidate Beto O'Rourke.
Current Texas Agricultural Commission Sid Miller took note of the sign and posted about it on Facebook. In a post, Miller made an unsubstantiated allegation that the sign was an attempt to depict the daughter of Supreme Court nominee and alleged attempted rapist Brett Kavanaugh.
"This is in Hamilton, Texas and is supposed to be Judge Kavanaugh's young daughter. Notice my opponent's sign in the background," Miller claimed. "The Democrat sleaze knows NO bounds!"
Marion Stanford is the person who created the sign.
According to the Fort Worth Star-Telegram, the sign was inspired by Kavanaugh's testimony before Congress. The woman being sexually assaulted on the sign, however, was not supposed to be one of Kavanaugh's daughters. Rather, Stanford said, it was simply a take on a popular political cartoon originally created by Ann Telnaes for the Washington Post.
In comments to the Dallas Morning News, Stanford said:
Here we have a political party that is using women. I thought the sign represented what is going on now, and we can't just stand quiet. I wanted to tell people we could stop it with voting.
The Telnaes cartoon and the Stanford sign are essentially the same image.
Opinion | The Republican National Committee flip-flops and announces support for Roy Moore's campaign https://t.co/5bNaFuDk5c pic.twitter.com/JC0954e5rR

— Ann Telnaes (@AnnTelnaes) December 5, 2017
Stanford's sign is just a bit more colorful in the sense that it uses more colors–and has the woman being abused by Republicanism voicing her cries for help. Stanford's sign, of course, also makes an explicit call to action.
After Miller's Facebook post drew attention to the sign, Republicans called for Stanford's arrest.
Local police then visited Stanford's home. No arrest occurred but the sign was taken by police. "Police told me to remove the sign or they would take it and would arrest me," Stanford said. "So I let them take the sign."
Miller praised the result in a later Facebook post.
"I'm glad that I called out this offensive campaign sign and am pleased that hundreds of others did so as well," the agricultural commissioner said. "It's vulgar and just plain wrong and it had no place in someone's yard visible from the street."
Miller also took the opportunity to repeat his false claim about the sign depicting Kavanaugh's daughter. He said:
Not only was the sign an attack on Judge Brett Kavanaugh's daughter, it made a mockery of sexual assault which is NO laughing matter. The sign's owner even threatened to sue me for bringing it to the public's attention. I told her to 'Bring It!'
Law&Crime reached out to the Hamilton Police Department for comment and clarification on this story, but no response was forthcoming at the time of publication.
[image via screengrab/Facebook]
Follow Colin Kalmbacher on Twitter: @colinkalmbacher
Have a tip we should know? [email protected]