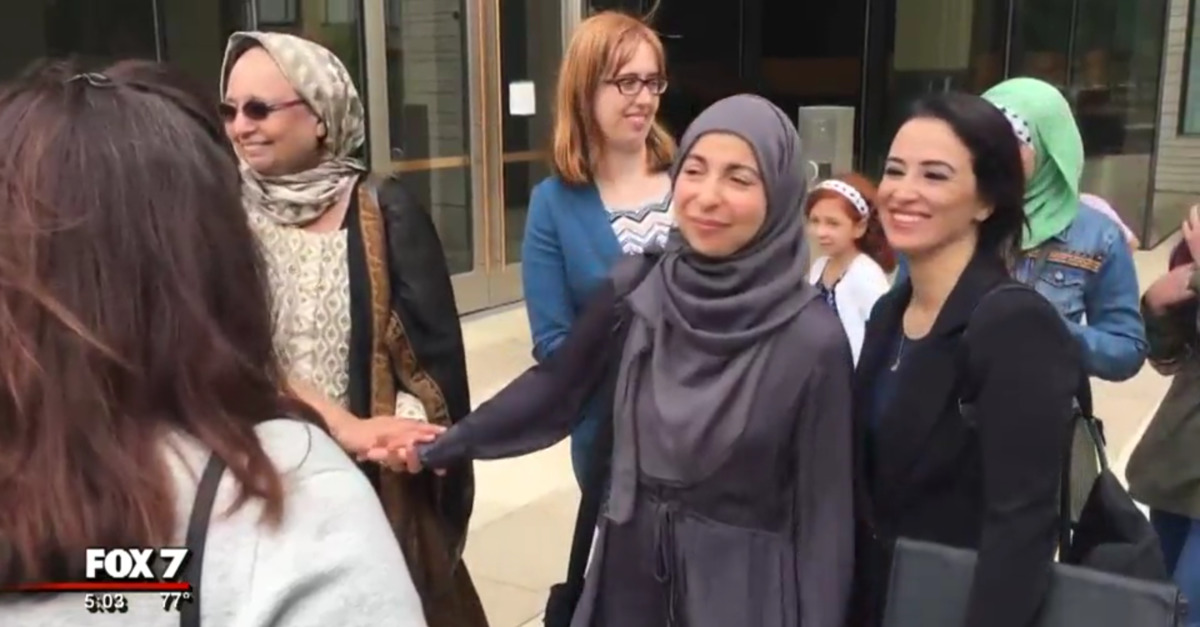 Bahia Amawi is a speech pathologist and child language specialist who spent nearly a decade working with elementary school students in Austin, Texas. Recently, she became an activist after being fired because she declined to pledge her allegiance to a foreign country.
In the summer of 2018, Amawi's contract with the Pflugerville Independent School District was not renewed because she refused to sign an oath declaring that she was not and would not participate in economic boycotts of Israel during the course of her employment.
As Law&Crime previously reported, Amawi sued Texas Attorney General Ken Paxton with an assist from the Council on American-Islamic Relations (CAIR) over the Lone Star State's controversial "No Boycott of Israel" or "anti-BDS" law passed in May 2017.
According to the Austin American-Statesman, U.S. Judge Robert Pitman was an "active listener" during most of Amawi's testimony on Friday, as her attorney, Gadeir Abbas, made the case for a dismissal of HB 89 and preliminary injunction.
"The state of Texas has no business telling Bahia or anybody else which kind of hummus to buy [or] which kind of products to buy," Abbas told the court. "Those are things that are part of our First Amendment liberties."
Amawi testified that she refuses to buy classroom toys from Israel because of their discriminatory policies toward the Palestinians and would not, therefore, sign a pledge stating otherwise.
"It should be my own judgment — the political turmoil over there and whether I support it or not," Amawi told Judge Pitman.
The outlet noted that Pitman "turned vocal" when the attorney representing the Texas Attorney General's Office and the Pflugervile ISD said Amawi could still attend anti-Israel protests or post anti-Israel comments on social media if she wants–but simply can't engage in such activity if she wants to earn a living from the state.
"What is Texas' interest in this law?" Pitman demanded.
The judge was then reminded that four other federal judges had split down-the-middle when considering similar issues.
"I'll be the tiebreaker," Pitman noted.
Supporters of Amawi reportedly filled the pews inside the U.S. District Court for the Western District of Texas–with stragglers taking up any space on the floor they could find, according to the Statesman.
According to Austin's local Fox affiliate, Amawi was "all smiles" when she left a federal courtroom on Friday with her daughter.
She framed her legal battle as an effort for free speech and free inquiry in general:
It's a fight for all Texans really, because this affects everybody, it's not going to affect only me, but everyday people, people who want to learn on their own, get facts on their own regarding political views and not to be forced to believe in one ideology.
"This is about principles and values," Amawi continued.
The lawsuit was filed in mid-December last year alleging violations of Amawi's First Amendment rights to free speech and protest.
"Political speech on issues of great national and international importance is central to the purposes of the First Amendment," the lawsuit notes. "Speech and advocacy related to the Israel – Palestine conflict is core political speech on a matter of public concern entitled to the highest levels of constitutional protection."
[image via screengrab/Fox 7 Austin]
Have a tip we should know? [email protected]