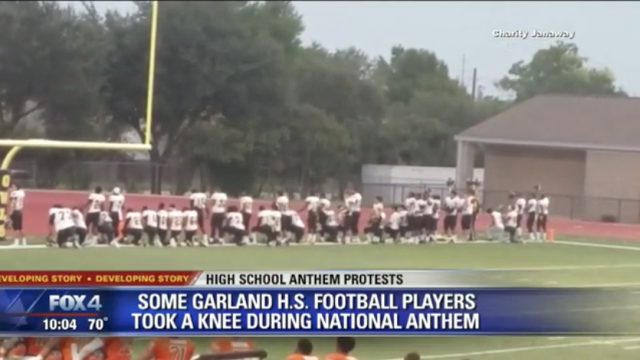 As word spread that the superintendent of a school district in Louisiana is forcing student athletes to stand during the national anthem, Constitutional questions quickly arose.
And one group rose just as fast to note that the U.S. Constitution is firmly on the side of any would-be-kneeling students or silent protesters generally.
The Democratic Socialists of America ("DSA"), by way of a legal working group, issued a form letter,"to serve as a template for attorneys, public school students, or public school teachers who wish to assert relevant First Amendment rights to public schools that have punished students or teachers for silent protest by kneeling during the National Anthem."

A copy of the form letter was provided to LawNewz by the DSA's Noah Baron. It begins:
It has come to my attention that your school has recently taken action against [name(s) of student(s)] in retaliation for their decision to kneel during the National Anthem. These students have engaged in silent, non-disruptive performance of their duties as responsible citizens or residents of the United States; they should be commended for their awareness of current events and commitment to civic engagement, not punished. Moreover, any actions you have taken against them are clearly unlawful and unconstitutional, and accordingly expose the school, and potentially the individuals who took those actions, to liability.
The form letter cites multiple legal precedents, including West Virginia State Board of Education v. Barnette, which found that punishing students who refused to stand for the pledge of allegiance was an unconstitutional violation of their First Amendment rights. This case is typically cited as one of the cornerstones undergirding the concept that government cannot compel speech–such as standing for, or saluting, the U.S. flag. It applies to the national anthem as well.
Another precedential case cited is Tinker v. Des Moines Independent School District, which found that students have a right to freedom of speech so long as it does not, "materially and substantially interfere," with the school's operation. This case defines the First Amendment rights of public school students generally and is famous for enshrining the notion that Free Speech does not end at the schoolhouse door.
The form letter goes on to note, "I urge you to immediately reconsider and rescind any actions you have taken against the students in question, as well as any policies that violate the constitutional rights of your students. If you fail to do so, legal action may follow."
LawNewz reported on the threats made against student-athletes' exercise of free speech rights earlier this week, after Bossier Parish Schools Superintendent Scott Smith issued a letter which reads, in part:
It is a choice for students to participate in extracurricular activities, not a right, and we at Bossier Schools feel strongly that our teams and organizations should stand in unity to honor our nation's military and veterans…
Principal Waylon Bates of Parkway High School, which is located in Bossier Parish, later piled on, saying student-athletes who disobey the new rules will likely lose playing time.
It's unclear what impact the verboten kneeling stance has had on Bossier Parish players as of yet. Since the issue has gained national prominence, two Texas high school football players have been kicked off their team for kneeling during the anthem. Those players attend a private school, however, and are likely not covered by the First Amendment here.
Some high school football players at a public school in North Texas took a knee on Friday night–seemingly without repercussion.
LawNewz spoke with Baron about the form letter and the threats currently being leveled at student athletes. He said:

It is appalling that any educational institution would punish students for standing up for racial justice, especially when doing so arises from their awareness of current events and manifests as a form of respectful civic engagement. Moreover, singling out students for kneeling during the National Anthem so obviously contravenes the protections of the First Amendment to the Constitution that it boggles the mind that any school administrator would think it acceptable, let alone believe that they could escape legal action.

A press release issued with the working group's letter states, "As attorneys, law students, and legal professionals we stand in solidarity with all who strive toward the realization of racial justice and condemn any person or entity who would violate well-established constitutional rights to interfere with that goal."
The letter also notes, however, that it is only being offered at face value and does not come with the promise of legal representation.
[image via screengrab]
Follow Colin Kalmbacher on Twitter: @colinkalmbacher
Have a tip we should know? [email protected]