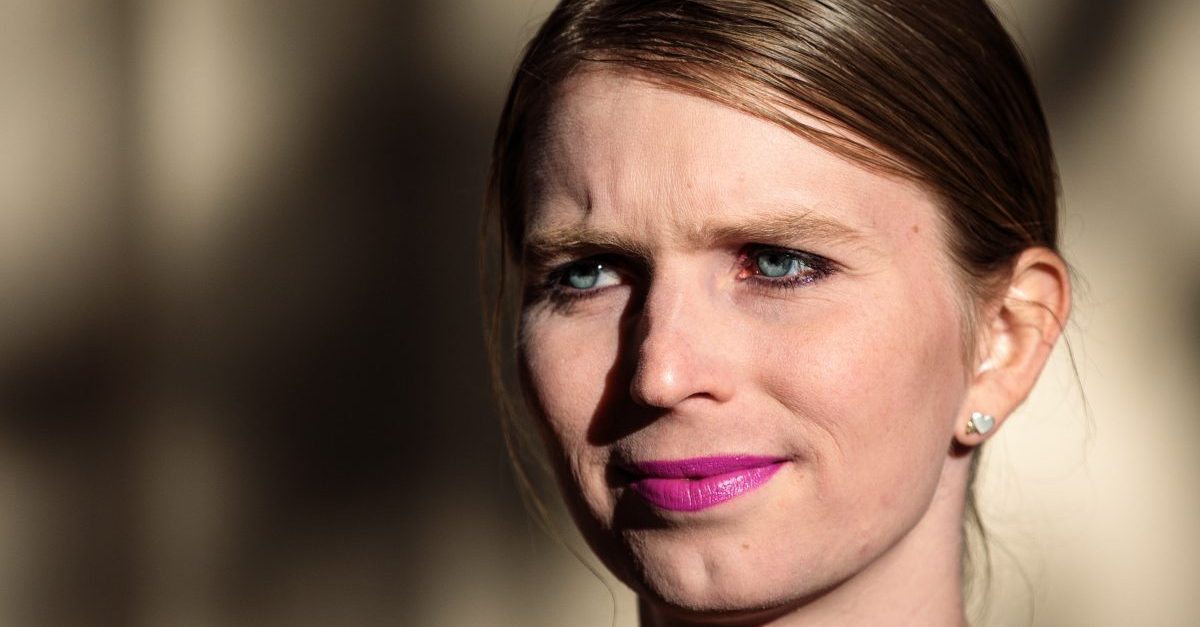 Attorneys for Chelsea Manning, the former U.S. Army intelligence analyst who went to prison for leaking thousands of documents to WikiLeaks founder Julian Assange, have filed a motion to release her from jail pending an appeal recently filed with the Fourth Circuit Court of Appeals.
On Monday, Manning's legal team argued that such a conditional release is necessary because District Court Judge Claude Hilton's finding of civil contempt was improperly leveled against Manning.
Hilton erred, the defense argued, by failing to consider evidence which would have excused Manning from testifying in front of a grand jury empaneled in the Eastern District of Virginia (EDVA) in early March. After declining to comply with the government's subpoena, Manning was ordered to remain incarcerated for the length of the grand jury or until she agrees to testify.
On Friday, March 29, Manning's attorneys filed a separate motion with the Fourth Circuit in a bid to vacate Hilton's finding of civil contempt.
A statement released by the pro-Manning group Chelsea Resists! summed up the motion's arguments.
"[I]t would appear that Judge Hilton denied Chelsea's motion asking the government to disclose the existence of any unlawful surveillance without actually considering the evidence," the statement noted. "Rarely does a judge deny a motion without doing so explicitly or making any actual rulings or statements about any of the legal issues brought before the court."
The group also explained the defense's argument that Judge Hilton committed an actual legal error:
Judge Hilton didn't question the government about any of the issues or facts raised in the electronic surveillance motion. He did not even ask the government to make simple affirmations or denials regarding whether it was aware that electronic surveillance had occurred, although the law requires that the government make such denials once a "colorable claim" is raised.
"These questions about surveillance are especially important because any evidence derived from unlawful surveillance may not be used in a grand jury, and the existence of such surveillance would excuse Chelsea from having to testify before the grand jury," the statement continued.
Manning unsuccessfully argued that being forced to testify was a violation of her First Amendment rights. A recently unsealed filing from March 1 expressed some the defense's additional arguments.
"The concern here is that the subpoena as a whole is the product of unlawful—and possibly misunderstood—electronic surveillance," Manning's lead attorney Moira Meltzer-Cohen wrote.
"Since her release, Ms. Manning has experienced all manner of intrusive surveillance, including surveillance vans parked outside her apartment, federal agents following her, and strangers attempting to goad her into an absurdly contrived conversation about selling dual-use technologies to foreign actors," the March 1 filing continued.
Judge Hilton rejected the salience of those surveillance-linked arguments but Cohen is now arguing that Hilton's refusal to even address those charges amounts to a judicial impropriety.
Manning is currently incarcerated in the Alexandria Detention Center–where she's been held since March 8–under the auspices of "administrative segregation" which is effectively a form of solitary confinement.
The one-time Wikileaks source is now applying for bail pending a judicial determination on her appeal against the original contempt charge. Additionally, Cohen is now arguing that her client's confinement has become punitive–which would be an abuse of the contempt power.
Potential grand jury witnesses can legally be locked away in an effort to compel testimony, but not as a form of punishment.
"This is the strongest appeal of a grand jury contempt I have ever seen, and so release ought to be granted," Cohen told nonprofit news wire The Sparrow Project. "The lower court acted without considering clear legal mandates and this error, including the denial of release, must be corrected in the appellate court."
It's still not entirely clear what the government wants Manning to testify about, but we do know the EDVA is the same district that once mistakenly revealed that there might be a criminal case against Assange waiting in the wings.
[image via Jack Taylor/Getty Images]
Have a tip we should know? [email protected]