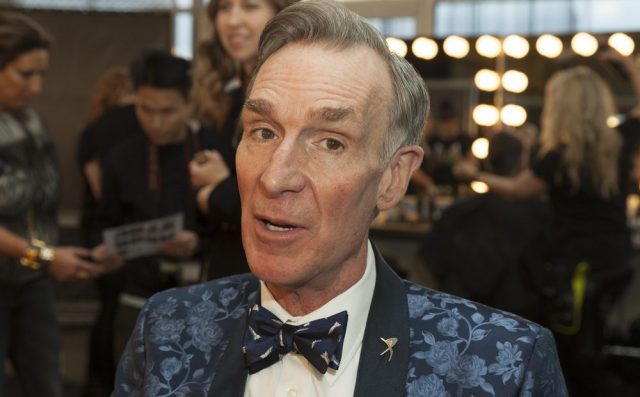 Television personality Bill Nye is suing The Walt Disney Company and various TV companies for more than $37 million, claiming that they hid how much they owed him for his popular "Bill Nye the Science Guy" educational show that ran from 1992 to 1997.
It all started, allegedly, when Disney subsidiary Buena Vista Television (BVT) paid Nye $585,123.00 in 2008 for his share of the show's profits the year before (the show continues to air in certain markets, has been available on home video and NetFlix). A few months later, Nye got a letter saying there had been an accounting error, and he had to pay back $496,111.00. BVT stopped paying Nye his profits at that point, saying he had to cough up the cash first, according to the complaint, filed on Thursday.
Nye started to become suspicious of BVT's accounting, and he claims that he contacted Disney to resolve the issue, only to be told that he can conduct an audit, if he pleases. Several years of talks later, Nye hired an auditor, who was then notified that he had to wait three to four years because Disney had a long line of auditors to accommodate. The audit finally began in May 2016, but Nye alleges that Disney and BVT denied the auditor access to "documents essential to carrying out its examination."
Despite the limited records the auditor was able to review, he noticed that Disney had underreported $9,350,565.00 worth of payments owed to Nye, the complaint says. Nye also alleges that over the years, as a result of their "fraudulent concealment," Disney and the other companies accumulated more than $28 million in "ill-gotten profits."
In addition to the money he believes he is owed, as well as the "ill-gotten profits," Nye is also seeking unspecified punitive damages, as well as for the court to impose a constructive trust for "all profits and proceeds" related to the show that Disney and the other defendants currently control.
LawNewz.com reached out to The Walt Disney Company for comment, but they have yet to respond.
LawNewz.com reached out to The Walt Disney Company for comment, but they have yet to respond.
[Image via lev radin shutterstock]
Have a tip we should know? [email protected]