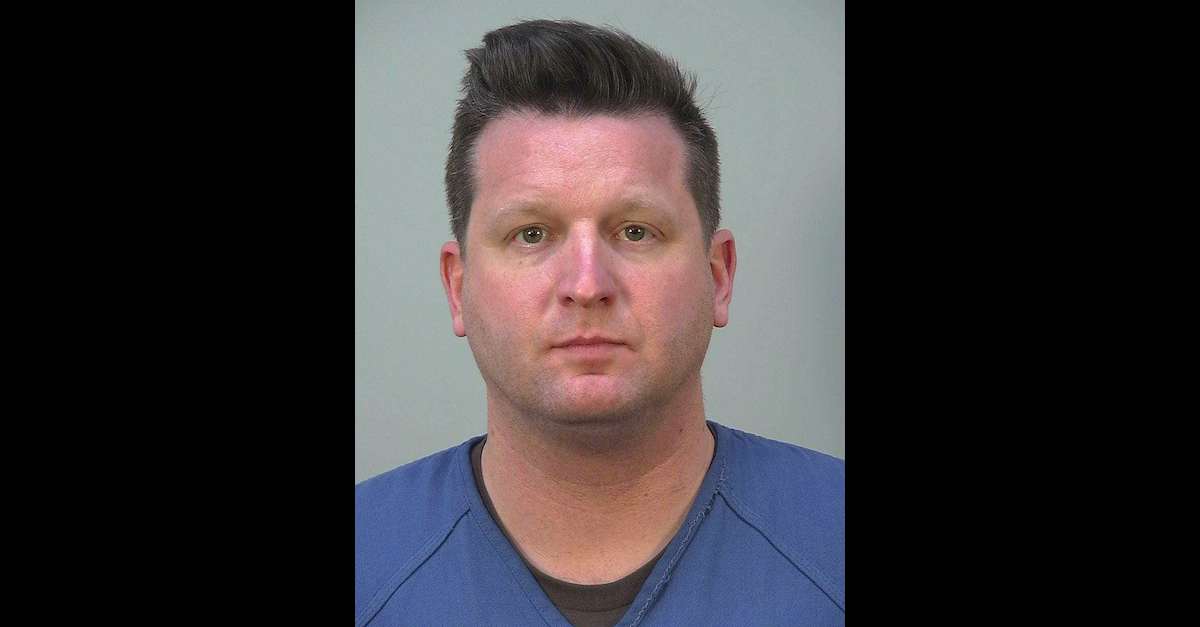 A Wisconsin children's court judge has been charged with seven felony counts of possessing child pornography, Law&Crime has learned. According to online court records, Brett Blomme, 38, of Cottage Grove, Wis., faces the list of felonies after an investigation by state and local authorities in both Wisconsin and Minnesota.
According to a criminal complaint document on file in Dane County, Wisconsin, the case unraveled when the National Center for Missing and Exploited Children received a "CyberTip" that someone with the account name "DomMasterBB" used a messaging program called Kik to upload "images and videos consistent with child pornography through the application on 27 separate occasions in October and November of 2020." The account was registered under a gmail address containing Blomme's first and last names.
Per the complaint:
Kik . . . provided several different Internet Protocol (IP) addresses that were used by "dommasterbb" to upload and share the images and videos. Through queries with American Registry for Internet Numbers (ARIN), [a special agent] discovered that two of the IP addresses were provided by a Milwaukee County government building, one IP address was provided by Charter Communications, one IP address was provided by AT&T, and two IP addresses were provided by Verizon Wireless.
Another IP address allegedly used to access the material was linked to Blomme's home in Cottage Grove, Wis. Yet another IP address was linked to a person known only as "Individual B." That person told investigators he was a friend of Blomme's. The documents suggest that Blomme had access to his friend's internet:
Individual B also showed [two special agents] text message conversations Individual B had with Brett Blomme regarding days Blomme was at Individual B's house. Some of those dates coincided with the dates from the Kik records when "dommasterbb" used Individual B's AT&T internet service to upload child pornography videos and images.
The documents go on to explain in lurid and graphic detail the contents of seven specific files reviewed by investigators. A Special Agent "found that they met the definition of child pornography under Wisconsin law." Some of the files were video files.
According to the criminal complaint, authorities executed five search warrants. News releases issued by the Wisconsin Attorney General's Office indicate that the warrants applied to Blomme's person, his judicial chambers in Milwaukee, his vehicle, and his residences in both Milwaukee and Dane Counties. It is unclear from the documents what officers obtained as a result of those searches.
As Law&Crime reported Tuesday, Blomme assumed the bench in Aug. 2020 after poising himself as a progressive alternative to an incumbent judge appointed by former Wisconsin Gov. Scott Walker, a staunch Republican and conservative.
Blomme is charged with violating Wisconsin Statute 948.12(1m). It reads:
Whoever possesses, or accesses in any way with the intent to view, any undeveloped film, photographic negative, photograph, motion picture, videotape, or other recording of a child engaged in sexually explicit conduct under all of the following circumstances[]:

(a) The person knows that he or she possesses or has accessed the material.

(b) The person knows, or reasonably should know, that the material that is possessed or accessed contains depictions of sexually explicit conduct.

(c) The person knows or reasonably should know that the child depicted in the material who is engaged in sexually explicit conduct has not attained the age of 18 years.
The alleged crimes are Class D felonies. Under Wisconsin law, a Class D felony is punishable by up to 25 years in prison and a $100,000 fine, or both.
Blomme made an initial appearance via remote videoconference on the charges at 1:30 p.m. CT Wednesday in Dane County. Madison-area criminal defense attorney Christopher T. Van Wagner is representing the defendant. Assistant Attorney General David William Maas is prosecuting the case.
Blomme watched a video feed of the proceeding through the narrow glass window of what appeared to be a brown jail cell door.
Van Wagner said Blomme was not ready to tender a plea. He then agreed to waive a formal reading of the complaint document against him and agreed to waive the standard time limits for a preliminary hearing in the matter.
Court Commissioner Brian Asmus ruled that probable cause existed to move forward with the case.
Prosecutor Maas requested a $2,500 cash bail and suggested as many as 27 separate "potential" charges may eventually be filed given the volume of the material recovered. Maas also asked the court commissioner to ban Blomme from using mobile internet devices and to require that Blomme be supervised and monitored by another adult while using the internet, except for confidential communications with his attorney and other matters related to his job. Maas further requested that the defendant be supervised while interacting with children — including the defendant's own two kids.
Van Wagner disagreed with the restrictions and called them "unmanageable."
"I respectfully believe that the bond should be a signature bond in this case," the defense attorney said while citing Blomme's two residences in the state and his family ties to Wisconsin.
"He is in a marriage, and he has children — and he is committed to them," Van Wagner said.
The attorney then cited other recent Dane County child pornography cases which involved a mere signature bond as the rationale for his opposition to the state's request for cash bail.
"Why is he different than anyone else accused of a child pornography offense in this county?" the defense attorney questioned.
"He's a professional; he does own a home," Van Wagner added while calling his client "smart" and "experienced."
"There's nothing about a signature bond that is going to cause him to suddenly up and leave . . . his family, leave his extended family, and leave the support group he has among his friends," the defense attorney said with reference to his client. "He has a wide group of support and that won't change after today."
Van Wagner then called the accusations "non contact" offenses.
"There is not a word in there [that] my client directly did anything that tried to put him in touch with any minors — his or anyone else's," the defense attorney said. "There's not a scintilla of factual suggestion in the criminal complaint that — other than the use of the internet — that he ever posed a danger to any children."
Van Wagner then said the state's Child Protective Services office was looking into whether Blomme's own children were harmed.
"We must remember that my client has a constitutionally protected interest in his own children," the defense attorney said while asking the court commissioner to allow Blomme to be able to see his own kids.
"He's never sat in jail before; he's never been charged with a crime before," said Van Wagner.
The defense attorney then said that the internet and mobile phone restrictions proposed by the state went too far.
"If he is assisting his children with school," another adult would have to be present to watch Blomme's internet activity, Van Wagner argued.
The defense called the internet "an essential element of parenting and of life" which should not be taken away as a bail condition.
Van Wagner then argued in the hypothetical.
Blomme would be unable to summon help were his own children to suffer an emergency if the commissioner agreed with the state's request to take away Blomme's cell phone, Van Wagner posited.
"The idea of not having the phone at all, I think, should be considered a non-starter," the defense attorney said.
He then turned his attention toward rubbishing the state's request to ban Blomme from using the internet in general. Banking, attorney/client communication, doorbells, cars, and even thermostats are connected to the internet these days, he noted.
"It would be almost impossible not to access the internet in this day and age in any way, shape, or form," Van Wagner said.
Asmus, the court commissioner, then said he would explain the proceedings in detail given the public's interest in the case. He noted that the purposes of the initial appearance and its concomitant bail hearing were to ensure the defendant's appearance in future proceedings and to consider whether the defendant needed to remain locked up pending trial because he might pose a danger to the community.
"There's a significant potential sentence," Asmus said while assessing bail.
"Most of the cases for possession of child pornography where there isn't a 'contact offense' result in the mandatory minimum . . . nothing beyond the three years," the commissioner said further.
"There are exceptions," he noted, but said that the charges generally do not result in "decades in prison."
Asmus said there was little evidence that Blomme would flee and mostly agreed with the defense as to the conditions the state sought.
"I think a signature bond is appropriate," the commissioner ruled.
He then said that the internet was so "ubiquitous" that he would allow the defendant to go online. However, he said the defendant would not be allowed to use "social media applications or any file sharing applications" and would not be allowed to have "unsupervised contact with minors."
The court commissioner agreed that Blomme should be able to see his own children without supervision. He remarked that there was no evidence to suggest Blomme had assaulted his own children and said that Blomme's husband would presumably do a good job of supervising and handling family matters.
Law&Crime independently reached out to defense attorney Van Wagner for any reaction and/or comment he wished to provide on Blomme's behalf. No response was immediately forthcoming. If a response is received, we will update this report.
The A.G.'s office said that the Wisconsin Department of Justice's Division of Criminal Investigation was the lead agency on the matter. The Milwaukee County District Attorney's office provided assistance. Additional assistance was provided from the Wauwatosa Police Department, the Cottage Grove Police Department, the Racine County Sheriff's Office, the Brookfield Police Department, the Waukesha County Sheriff's Office, the Minnesota Bureau of Criminal Apprehension, and the U.S. Department of Homeland Security.
You can read the charging documents below. WARNING: the allegations are graphic.
Judge Brett Blomme Criminal… by Law&Crime
Editor's note: this report began as breaking news. It has been updated substantially since its initial publication.
[featured image via the Dane County, Wisconsin Jail]
Have a tip we should know? [email protected]
Aaron Keller - Deputy Editor-in-Chief