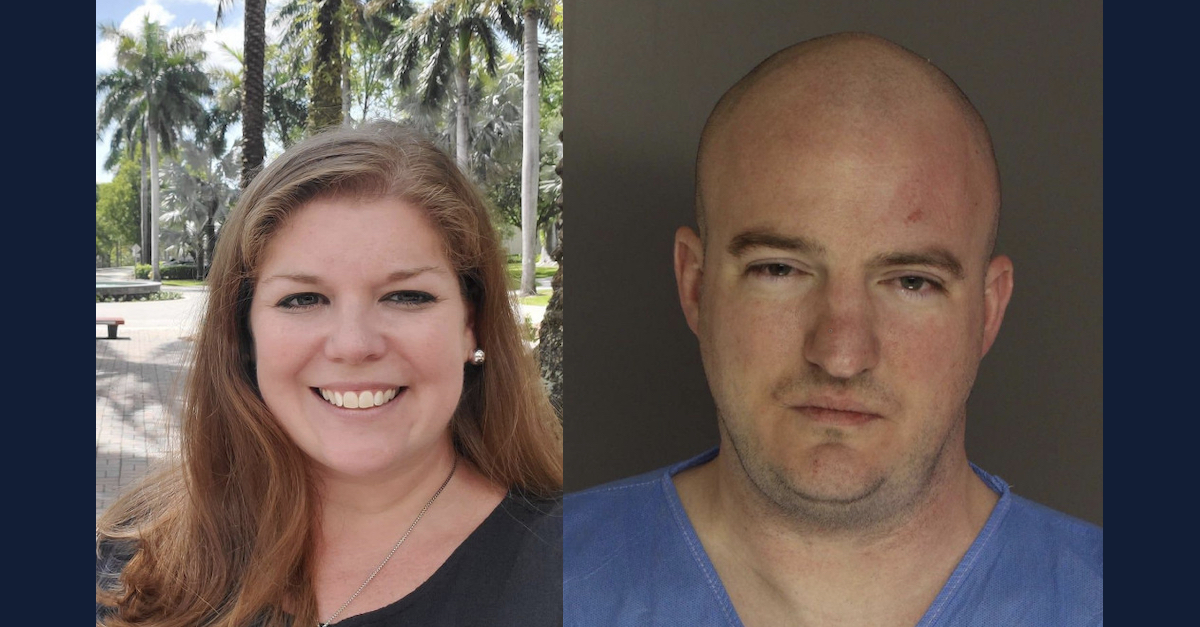 Tamara Colbert, 39, was found dead in a third floor bathroom at her Pennsylvania home during the late afternoon on Christmas Eve.
The deceased woman's husband has since been charged with her murder after allegedly calling and telling his father she died by suicide.
Christopher Kendig Colbert, 39, is currently being held in the Cumberland County Prison without bond, according to jail and court records reviewed by Law&Crime. He stands accused of one count each of criminal homicide, aggravated assault causing injury, strangulation, and tampering with or fabricating physical evidence.
According to the Cumberland County District Attorney's Office, the Hampden Township Police Department responded to a call for a welfare check on Dec. 24, 2022. Inside the residence on Wild Orchid Lane in the census-designated place of Enola, officer found the 39-year-old newlywed dead. She had been shot once in the head.
According to police, there was a suicide note covered in blood found at the scene of the crime, but no suicide occurred there that day.
"We never should have had weapons in the house," the note began, according to PennLive, citing Cumberland County court records. "We both had tendencies to be angry when things went poorly. Writing any of this is silly, since we're dead, and I'm going to be seen as the cause."
Christopher Colbert was originally arrested on lesser charges: one count each of simple assault and recklessly endangering another person, court records reviewed by Law&Crime note. The defendant was initially held on $250,000 bail. Those charges were upgraded, and bail was later revoked, after the results of an autopsy determined that Tamara Colbert had been strangled before she was shot.
Law enforcement say the request for a welfare check was made by the defendant's father, who lives in Florida, after a conversation with his son on the day in question. The alleged killer was "irrational, emotional and not completing sentences," during the phone call in which he allegedly said his wife had killed herself, according to a court document obtained by PennLive. After that, Christopher Colbert's father tried to call his son back for half an hour before he dialed 911 dispatch in Cumberland County and requested help.
Responding officers claim to have found the house locked and the defendant sitting motionless inside the back seat of a car parked in the couple's garage at around 4:00 p.m. Christopher Colbert was allegedly non-responsive to officers' inquiries, so police forced their way inside before detaining him. Also inside the garage, the HTPD alleged, was a 9 mm Sig Sauer pistol and a bloody footprint.
Law enforcement say the defendant had the air of alcohol about him, lacked coherence, and refused to answer questions for several hours – except to say that there was no one else home at the time.
Eventually, however, Christopher Colbert allegedly told a detective that he and his wife "had an argument" when asked about her whereabouts. The detective then asked if the man's wife was okay. The defendant allegedly replied: "No, she is not. She stormed upstairs, unlocked the gun safe, we wrestled. I need a lawyer."
Police say an investigation determined that the two had argued in the kitchen; that Christopher Colbert pulled a knife on his wife there; that the knife fell to the floor; and that Tamara Colbert ran upstairs while scared for her life, according to court records reviewed by PennLive.
"While upstairs, a fight continued and the two wrestled and a firearm was discharged," officers wrote in a court document.
But police don't believe the firearm discharge was accidental – at least not anymore. The defendant is also accused of removing his bloody pants, cleaning up the crime scene, leaving his pants on the living room floor, and then moving the gun to the garage.
"There is no one I love more than Tamara," the would-be suicide note continued. "She was my world and I ruined it. I'm so impossibly sorry, understand that I didn't kill her. She and I had a fight. We were not doing well."
Tamara Colbert and her accused killer were both on their second marriage; they were married in February 2022.
The defendant was arraigned on Dec. 29, 2023. His next hearing is currently slated for Jan. 12, 2023 before Judge Kathryn H. Silcox.
[images via Cumberland County District Attorney's Office]
Have a tip we should know? [email protected]