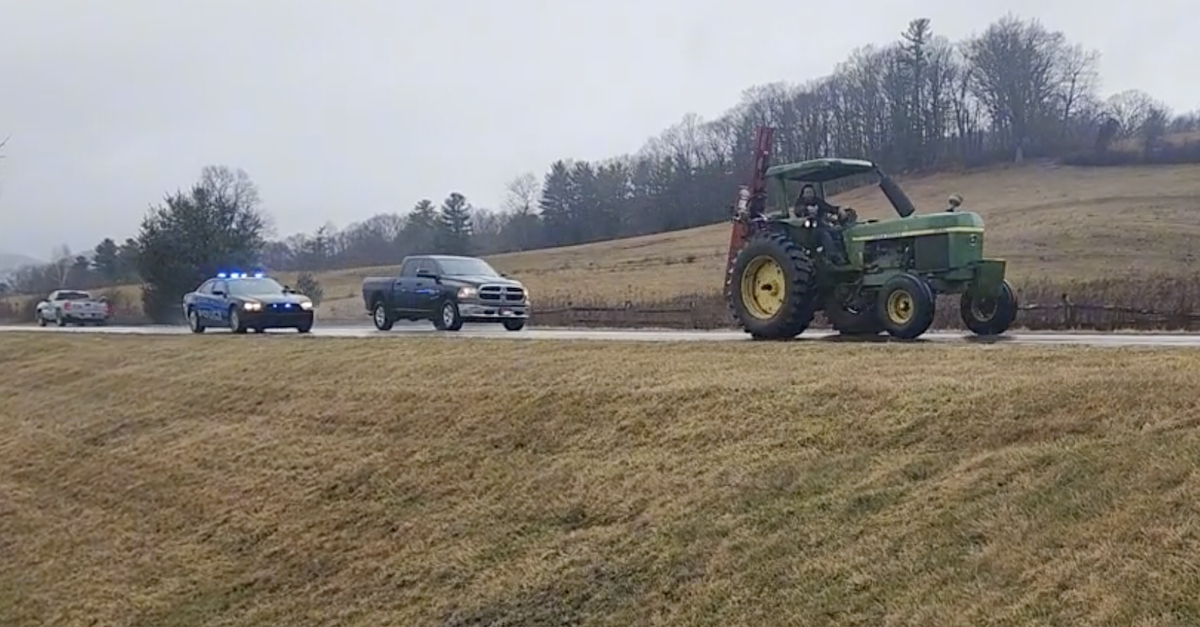 A North Carolina man has been charged with a litany of crimes after a wild highway chase involving a John Deere tractor earlier this week.
Ronnie Keith Hicks, 43, is accused of one count each of felony fleeing to elude arrest, felony assault on a government official with a deadly weapon, misdemeanor resisting a public officer, reckless driving with wanton disregard, misdemeanor driving while impaired, and driving left of center, according to the Boone Police Department.
The 20 mph chase happened Tuesday morning, mostly along a stretch of Highway 421 in Boone, North Carolina, about 190 miles west of Raleigh.
Police say they fielded several complaints about a stolen tractor being driven erratically and a driver intent on trying to strike pedestrians in the parking lot of Three Forks Baptist Church. Nobody was hurt, but the tractor hit several vehicles, a dumpster, and the church.
Police said they were familiar with the tractor-driving suspect.
"Our officers were concerned for the welfare of our citizens as Mr. Hicks was intentionally driving the tractor toward on-coming traffic," Police Chief Andy Le Beau wrote in a Tuesday afternoon Facebook post. "Once he turned onto Old 421, we were next concerned about Parkway Elementary and were determined not to let him get that far."
Police said Hicks drove erratically and intentionally veered toward motorists and officers.
"At least three civilian vehicles were damaged due to Mr. Hick's actions," police said. "One Boone Police patrol unit was intentionally rammed by Mr. Hicks, resulting in several thousand dollars of damage. Thankfully, the vehicle had a safety bar on the front of the vehicle that likely prevented the officer from being injured."
Several attempts to corral the suspect and stop the tractor failed.
"We did attempt to use stop sticks, but they were not terribly effective on the tractor," Le Beau said.
The chase ended after police shot out one of the tires, an action the chief authorized.
Police said an officer fired a rifle toward the tractor, which successfully slowed the vehicle down.
Police said the suspect turned onto a private drive, abandoned the tractor, and ran away while holding a knife. Officers said they used a Taser stun gun to take him into custody.
A video of the medium-pace-speed chase has gone viral on TikTok:
"This individual had stolen property and caused quite a bit of property damage, not to mention possibly hurting himself, an unsuspecting vehicle, or pedestrian," Watauga County Sheriff Len Hagaman told Law&Crime in an email.
Le Beau said he is glad no one was hurt.
"I fully believe that our officers' quick actions and professionalism kept anyone from getting injured or killed including and specifically the suspect, who endangered the lives of many in our community," Le Beau said.
[image of chase via screengrab/Mark Denny Jr./TikTok; mugshot via Watauga County Sheriff's Office]
Have a tip we should know? [email protected]