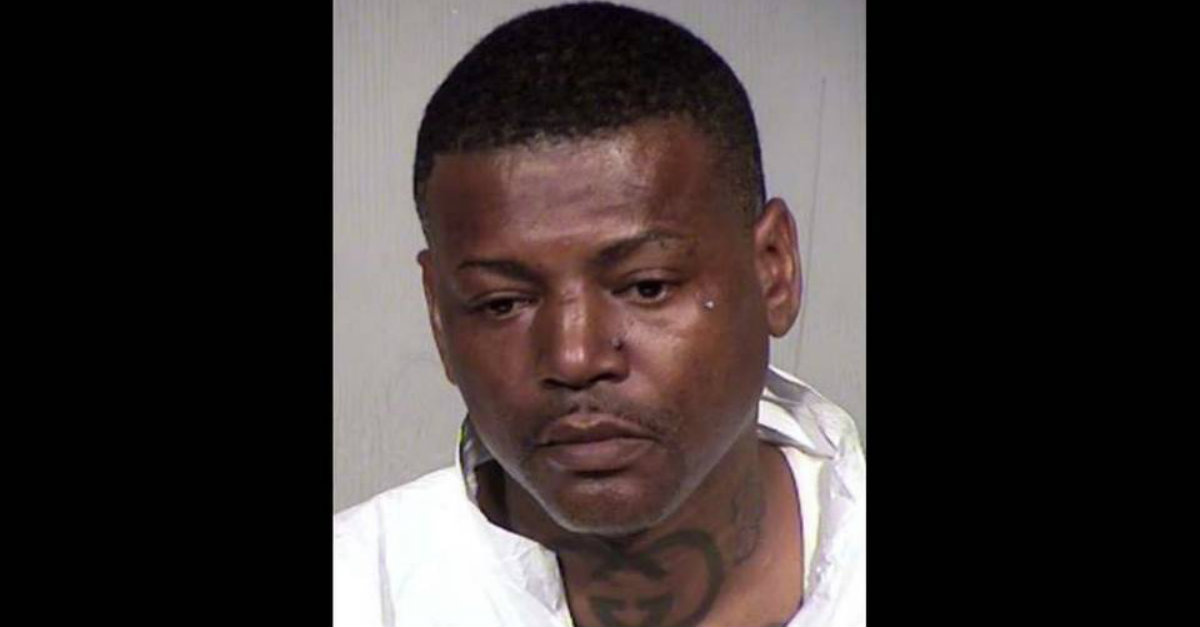 An Arizona father beat to death a man who tried to enter his daughter's bathroom stall, say Phoenix police. It all started with a trip to the QuikTrip convenience store, according to the arrest report. Dad Melvin Harris drove there to pick up his child and two of her friends, said cops.
While Harris waited in the parking lot, up walked this man. The man asked Harris for money. Harris gave him some, and the person walked into the store, police said.
Then, when the daughter and friends finally came to his vehicle, they told him some guy attempted to get into the child's bathroom stall in the women's restroom. The girl told a employee, who in turn told the security guard.
Who did it? Well, the daughter pointed the perp out to Harris, police said. Harris recognized him as the man he'd given money to earlier, said the arrest report.
This father told the security guard that he needed to take care of the situation, or he'd do it himself, said cops. The guard said it'd be taken care of, but well, Harris allegedly returned to his vehicle, and drove over to a nearby gravel area, where man had moved.
Witnesses claimed to see Harris punch the man to the ground. The victim was "snoring and moaning," and Harris kept hitting him in the face, and kicking him as well. He fled the scene, cops said.
Investigators said they tracked him down using surveillance video, and a description of the suspect and vehicle.
During one-on-one identification, the witnesses didn't identify Harris as the attacker, but cops arrested him because he actually admitted to it, said the arrest report.
He allegedly told police he only attacked because the victim hit him first. Harris claimed not to recall hitting the victim anymore after the man fell to the ground, and curled up into a ball, said the police report.
It's unclear how much the daughter and her friend's might have witnessed.
The victim suffered a nasal fracture and swelling to the brain. He survived at first, but, at the time, police noted that there was loss of oxygen to the brain.
The man did not regain consciousness. ABC 15 first reported that the man later died.
Law&Crime confirmed with the Superior Court of Arizona that Harris faces a count of second-degree murder. He is being represented by the Maricopa County Public Defender, but no one there has been assigned to his case yet, said a clerk for that office. An arraignment is scheduled for Friday.
[Mugshot via Maricopa County Sheriff's Office]
Have a tip we should know? [email protected]