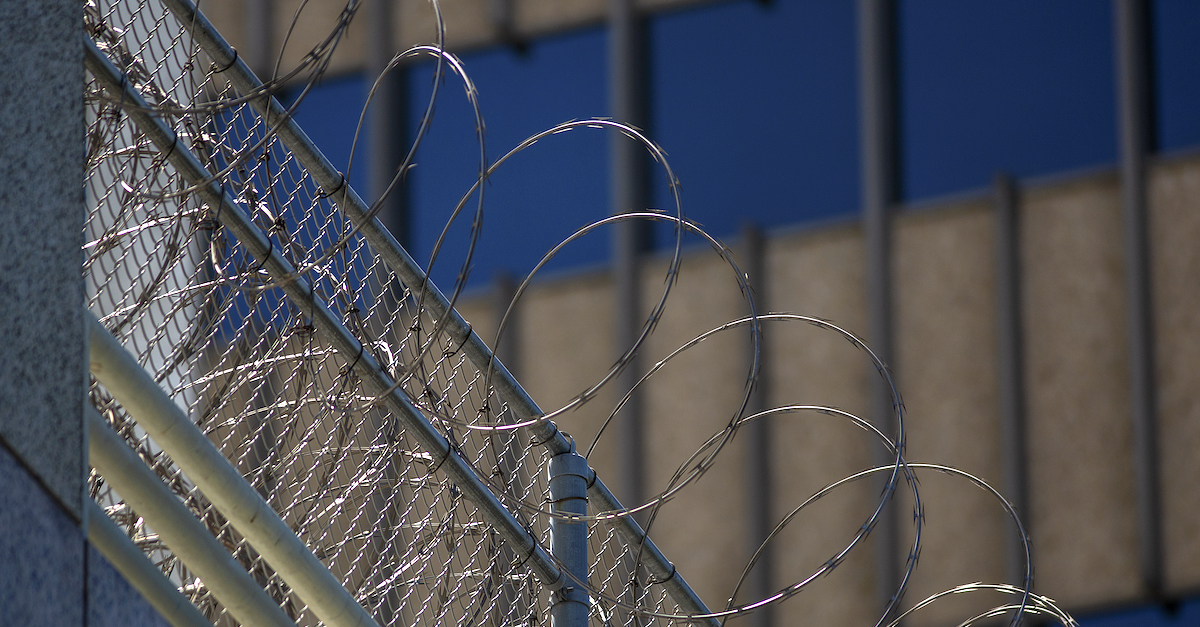 A 36-year-old man in Oklahoma has been arrested for allegedly posing as a psychic to repeatedly rape his daughter's 11-year-old friend, telling the child that if she did not have sex with him then her family "would get hurt or die." Andrew M. Burns was taken into custody on Friday and charged with one count each of first-degree rape, forcible sodomy, first-degree rape by instrumentation, and soliciting a minor for indecent exposure/obscene material, court records reviewed by Law&Crime show.
According to a probable cause affidavit obtained by Law&Crime, the investigation into Burns began in August 2022 when the victim -identified in court documents as "S.S." – filed a complaint claiming that she "had been raped three times by her friend's father Andrew Burns." The victim told police that she was at the home of her friend – Burns's daughter – for a sleepover when she first received a text message from someone claiming to be a psychic.
"Hi, This is Casey. I can tell the future, I am a psychic," the first message allegedly said. "If you don't make out or have sex with your friend's dad then your family members will get hurt or die."
Immediately after receiving the message, the victim told authorities that Burns came into the room and claimed to have received a message saying "almost the same thing." The victim said Burns told her "he was sorry that this is happening and she believed him." He then told her not to tell his daughter and instructed her to sleep on the couch that night.
That night, the victim told police Burns woke her up "aggressively" looking "scared-ish" and told her to go outside, take off her clothes, and get in the backseat of his car, the affidavit states. Inside the vehicle, the victim said that Burns "started using his fingers on her crotch area" and she began to cry because it "hurt really bad." She said Burns then "started using his mouth on it."
The victim said while Burns was taking his pants off, she made up a story that his daughter was watching them through the window and the two quickly went back inside.
The following day, "Casey" texted her again, allegedly claiming that Burns' memory of the previous night had been erased.
The next incident allegedly took place in the summer of 2022, when Burns claimed to have received a message from a psychic named Elisa who "wanted them to make out in [Burns'] car." That evening she claimed Burns again assaulted her with his hands and mouth, and she again stopped the assault by claiming Burns' daughter was watching them.
The third alleged rape occurred around Aug. 4, 2022, on the day of Burn's daughter's birthday party, which was also a sleepover. Burns allegedly picked the victim up from her home about 30 minutes early and brought her to his house where they were alone.
[The victim] stated that her and Andrew went into [Burns' daughter's] bedroom where Andrew took her clothes off and threatened [the victim] that if she didn't do this then he would hurt her brother. [The victim] stated that Andrew then took his clothes off and put her on the bed. [The victim] stated that Andrew then put "his penis inside of my cooch." [The victim] stated that all she could remember was Andrew putting his hand over her mouth and she started crying, then passed out because she couldn't hardly breathe anymore. [The victim] stated that she remembers hearing that it was all because of the psychic people that this was happening. [The victim] stated that she also remembers hearing Andrew moaning right before she passed out. [The victim] stated that she does not remember what made Andrew stop but remember waking up to being fully clothed
Burns also allegedly took a photograph of the victim's naked crotch during the encounter and said she later received a message saying that a psychic had erased Burns' memory of all three incidents.
Investigators said that one of the victim's friends corroborated the claims, telling investigators that she had seen the "weird" messages on the victim's phone and said the victim told her that Burns was "forcefully doing things to her."
Burns' daughter allegedly told investigators that she too received messages from psychics about the future and that they "were trying to get [the victim] drunk"
Authorities spoke to Burns at the end of August 2022 and he denied all of the allegations. His phone was seized and investigators allegedly found multiple naked images of the victim.
The victim told police she remembered taking the photos and sending them to Burns.
"[The victim] stated that Andrew Burns would tell her to send pictures like that or she would be raped," the affidavit says. "[The victim] also states that Burns would use different phone numbers to text her. [The victim] stated that she believes Burns was using 'Whats App' to acquire different phone numbers."
Burns was booked at the Delaware County Jail and released after posting $100,000 bond.
Read the affidavit below.
(image via David McNew/Getty Images)
Have a tip we should know? [email protected]