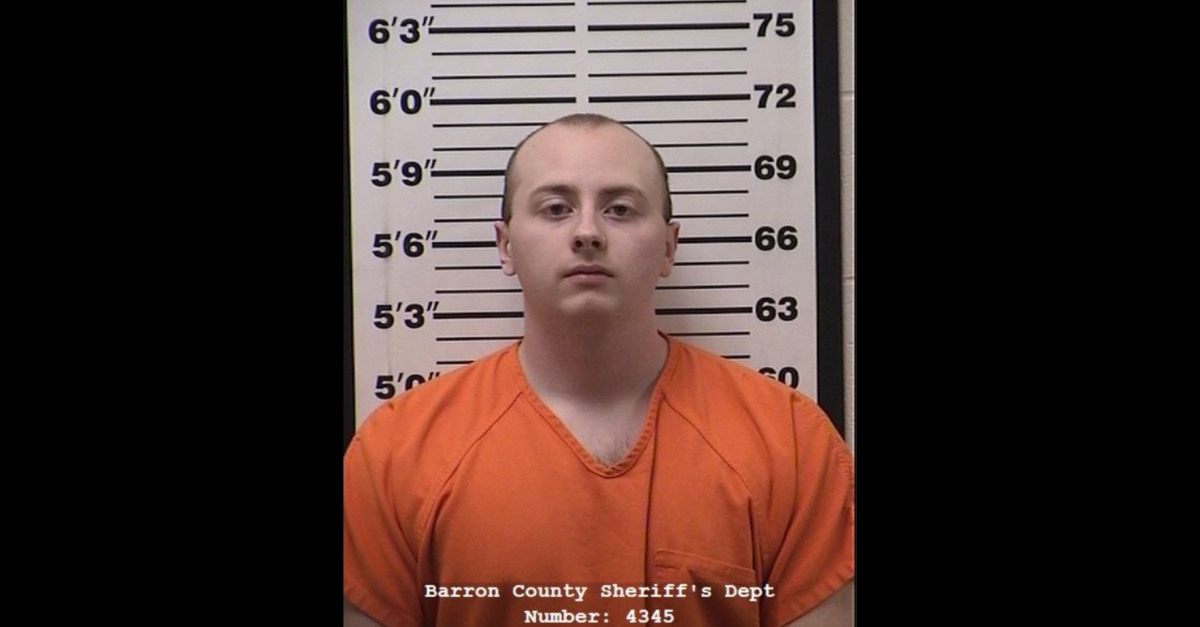 Officials in Barron County, Wisconsin are looking into whether murder and kidnapping defendant Jake Thomas Patterson really did write a jailhouse letter as recently claimed by Radar Online. Barron County Sheriff Chris Fitzgerald said he isn't sure if it's the real deal. Fitzgerald told the Green Bay Press Gazette that it seems legitimate and was mailed out-of-state.
Wisconsin State Public Defender's office, which represents the defendant, did not immediately respond to a Law&Crime request for comment, but if the letter is real, it will potentially have short-term and long-term effects on the case.
Short-term: Officials would need to determine if it violates the conditions of Patterson's $5 million bond. He can't contact Jayme Closs, the 13-year-old girl that he allegedly kidnapped. He also can't contact people who she found for help, or the child's family members.
At first glance, the letter seems to be for someone other than Closs, as the person this letter was intended for was addressed as a well-wisher.
"Hi, thanks for taking time to write me," states the letter purportedly from the defendant. In it, the writer discusses hobbies like dirt bike riding, and mentions that the writer likes dogs.
"He can send you a letter all day long," Fitzgerald told the Press Gazette. "Nothing I can do about it."
There's also, potentially, a long-term effect, if it's found that Patterson wrote this: the letter contained an admission. Prosecutors said Patterson killed Jayme's parents Denise and James Closs on the early morning of October 18, 2018, and held her captive in his Douglas County cabin for months until she escaped the following January.
"My family still supports me, even if I don't deserve it," said the letter. The writer later added, "It's weird. I went from never committing a crime or really doing anything bad, to doing the worst thing a human can do. Just one big fuck up hah."
The letter, if legitimate, also gave details about what life was like in the time Jayme was missing. In the document, the person claimed to have purchased a puppy and to have cooked with Closs. Patterson allegedly decided to kidnap Jayme after seeing her get on a school bus one morning, shot her parents in the head, and allegedly admitted to forcing the girl to hide under his bed for months. The person who penned the letter? Wrote hearts on both sides of Closs' name.
This will remain up in the air until deputies and prosecutors determine whether the letter is the real thing and make a decision about whether to use it against Patterson in court. Authorities said he already confessed and one of Patterson's attorneys has already acknowledged that such a confession was going to be an issue for the defense.
"Yes, it looks like you start out behind the eight ball a little bit," public defender Charles Glynn told the Associated Press.
Patterson is charged with two counts of first-degree intentional homicide, one count of kidnapping, and one count of burglary. Records reviewed by Law&Crime show he is scheduled for an arraignment on March 27.
[Mugshot via Barron County]
Have a tip we should know? [email protected]