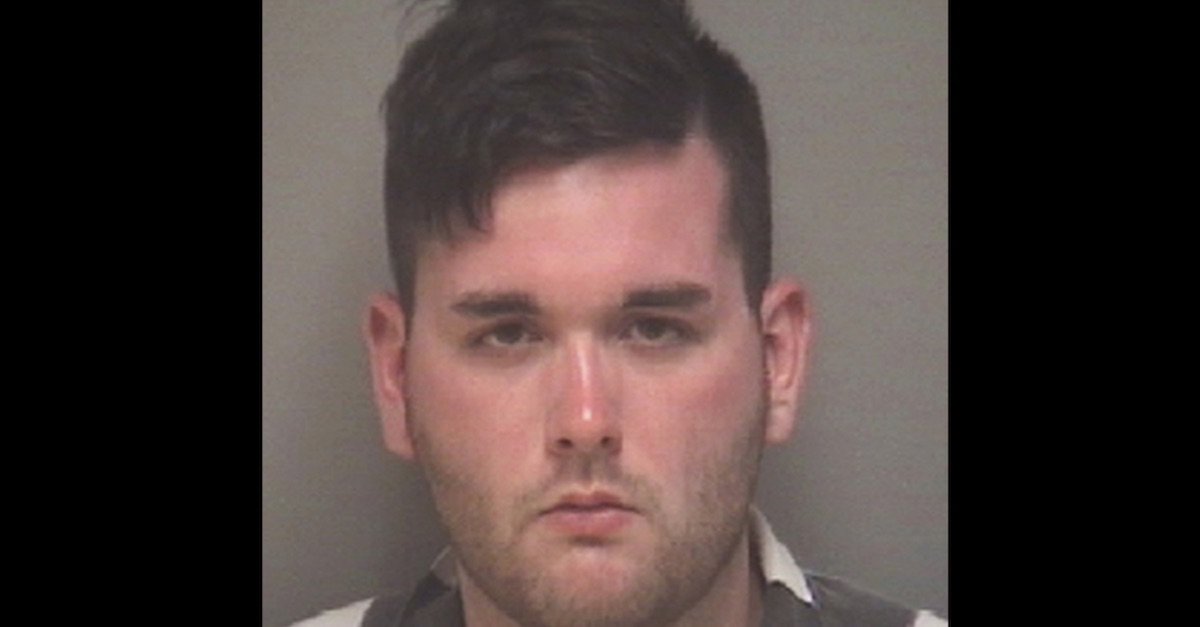 Avowed neo-Nazi and white supremacist James A. Fields, Jr. is currently on trial for the first-degree murder of socialist Heather Heyer this week. The prosecution's closing arguments in a Charlottesville, Virginia courtroom on Tuesday offered key insights into the defendant's thoughts.
The Washington Post's Kristine Phillips reports that just after being arrested and Mirandized, Fields was told by a detective that "There are people with some severe injuries." The defendant then began to cry and breathe heavily on tape before replying:
I'm sorry that–I don't know–I didn't want to hurt people but I thought they were attacking me.
Fields' defense attorneys do not deny that their client killed Heyer but have argued that her death was an unplanned result of being scared for his life–essentially an argument that he used his car in self-defense.
But prosecutors argued that Fields' fears and resulting actions weren't quite as cut-and-dried as that exchange might make them appear. That is, rather than any argument for a spur of the moment or self-defense reaction, the prosecution claimed that Fields came prepared to do violence that day.
Charlottesville Circuit Court Judge Richard Moore earlier allowed the inclusion of a controversial text message and meme into evidence. The text message was a text to his mother on the eve of Fields' journey to the violent Unite the Right rallies in August 2017. She expressed her desire that he be careful.
"We're not the one [sic] who need to be careful," Fields texted back. Included was a meme of Adolf Hitler.
The defense had earlier argued that including such evidence was posed "possible unfair prejudice" to their client but were overruled by Judge Moore.
Phillips notes that prosecutors successfully argued the evidence in question offered a window into Fields' state of mind just before Heyer's death–proof that Fields had, in fact, intended to harm the anti-racists and socialists–"perceived political and ideological opponents"–who had come to protest his fellow travelers in the alt-right movement.
As the prosecution wrapped up their case-in-chief, jurors were provided the audio from a series of jailhouse phone calls between Fields and his mother.
During one suchcall, Fields referred to Heyer's mother, Susan Bro, as "anti-white" and a "communist."
"You need to stop talking," Fields' mother cautioned.
"She is a communist," Fields insisted. "She is the enemy."
In addition to the meme and texts between his mother, jurors were also shown several additional memes Fields sent and posted on Instagram.
One such meme was given particular focus by the prosecution.
"You Have the Right to Protest, But I'm Late for Work," the meme reads with a typical two-part caption.
The image shows a car plowing into a group of protesters.
[image via Charlottesville PD]
Follow Colin Kalmbacher on Twitter: @colinkalmbacher
Have a tip we should know? [email protected]