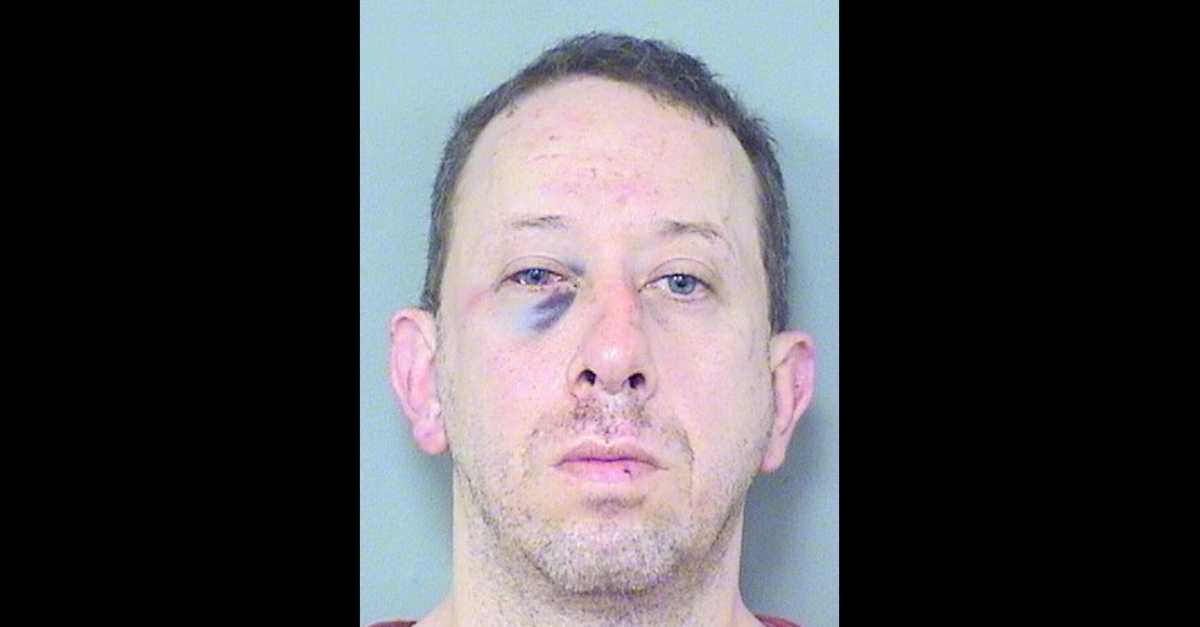 Meet Geoffrey Cassidy, 48. Deputies in Palm Beach County, Florida say Cassidy was caught masturbating outside of a teen girl's bedroom window. The 15-year-old's father found Cassidy and beat him badly enough to literally break his face, investigators said. Bonus detail: This father has been identified as a former NFL cornerback.
Let's go back to Monday morning, Jan 14.  According to the arrest affidavit obtained by Law&Crime, a deputy arrived at the scene regarding two individuals fighting. One of them, a black man, stopped upon the arrival of law enforcement, while the other, a white man (Cassidy), was on the ground. Deputies said the white man ran off but fell over after about 50 feet, so he was handcuffed.
Long story short, Cassidy was allegedly observed masturbating in the bushes and looking through the 15-year-old girl's bedroom window. The teen's father claimed to have seen Cassidy's bare butt, but not his penis. In any case, the dad said he called out to Cassidy, but Cassidy ran off.
The dad gave chase.
Authorities redacted names from the affidavit, but the father was identified in media reports as Tony Beckham, who played most of his NFL career with the Tennessee Titans.
Beckham told WPBF that he caught Cassidy and they had a "good conversation." Beckham's method of discourse resulted in the defendant sustaining a "right second zygomatic arch fracture" (cheek), and fracture to the "right medial orbital wall/lamina papyracea" (by the eye), deputies said. In the arrest affidavit, the dad said he only did what was necessary to detain Cassidy when the suspect fought back.
The defendant was read his Miranda Rights. He claimed that he was in the area because his vehicle broke down. Deputies said he refused to share the location of that vehicle, didn't give them a phone number and said he was a transient. Cassidy insisted he didn't look inside the window, but then invoked the right to remain silent, according to the affidavit.
Beckham suggested to WPBF that Cassidy was so bold that perhaps this isn't the first time it happened. His wife Amanda Beckham said they quickly had darker blinds installed to prevent something like this from happening again.
Cassidy remains at the West Detention Center on a $1,500 bond for lewd and lascivious behavior involving a minor less than 16 years of age, according to records viewed by Law&Crime. He applied for a public defender, and is scheduled for a court hearing to take place February 13.
[Mugshot via Palm Beach County Sheriff's Office]
Have a tip we should know? [email protected]