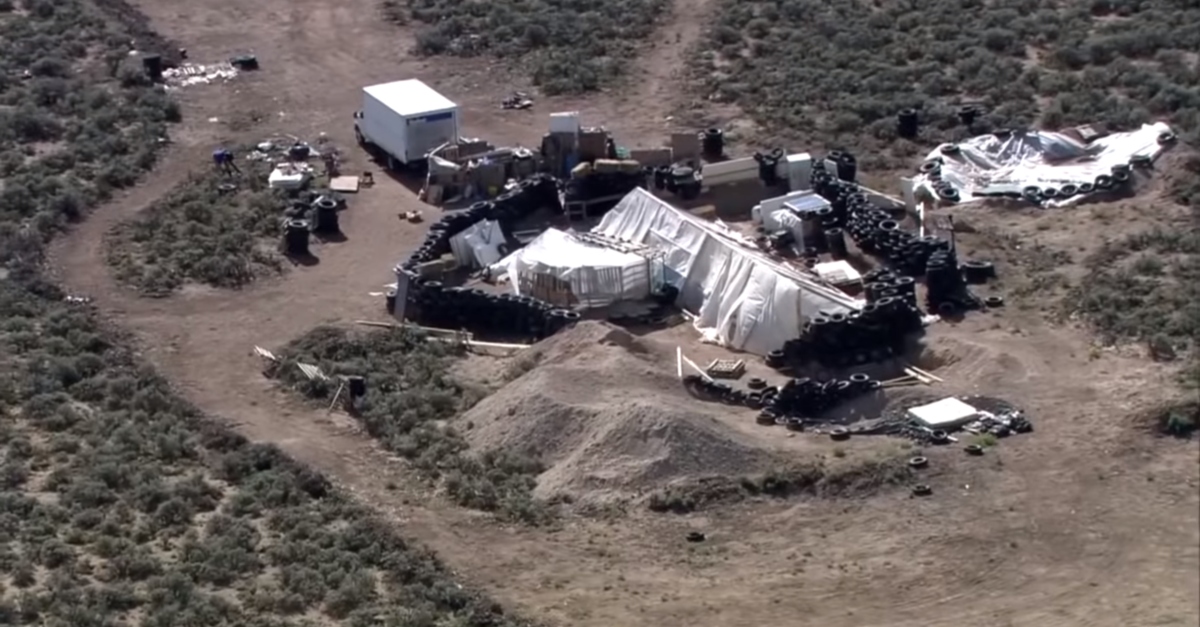 Child neglect charges were dismissed Wednesday against defendants in the New Mexico compound case. Three of them can no longer be held by authorities, but it's not like they are out of legal jeopardy.
Here's what happened: prosecutors missed the 10-day deadline to establish probable cause in the child neglect charges against three of the defendants, according to Fox News, ABC News, and the Associated Press.
Lucas Allen Morton, Subhannah Wahhaj and Hujrah Wahha must be released because these were the only counts they faced. Authorities claim they, Siraj Ibn Wahhaj and Jany Leveille were responsible for horrid conditions in which 11 children were found living. A twelfth child, Siraj Wahhaj's 3-year-old son Abdul-Ghani Wahhaj, was found dead on the property.
Wahhaj and Leville remain locked up in his death.
News that all charges against Morton, Subhannah Wahhaj, and Hujrah Wahha were dismissed disturbed some conservative Twitter users. Here's former Arkansas Governor Mike Huckabee misconstruing Wednesday's news.
Judge ought to be impeached. Basically rules it's okay to kidnap, kill, imprison, and train kids to be mass murderers. Disgusting! Were the kids' lives worth NOTHING to this jerk judge? https://t.co/uQwteLAGHR

— Gov. Mike Huckabee (@GovMikeHuckabee) August 29, 2018
No, that's not what the court ruled.
The judge decided that prosecutors didn't make a probable cause showing in the child abuse case. Even though that's the case, it's still possible to obtain an indictment. Here's how former federal prosecutor Renato Mariotti put it:
What happened in this case is that the judge dismissed the case because the prosecution did not present evidence to meet the "probable cause" standard within 10 days, as the law requires. That protection exists so the government can't keep you jailed without a good reason.

— Renato Mariotti (@renato_mariotti) August 29, 2018
This doesn't stop prosecutors for going after the three defendants. If prosecutors do have probable cause, they can still show it to a grand jury, Mariotti said.
Child neglect charges against Siraj Ibn Wahhaj and Leville were also dropped on Wednesday, but they still face new charges in the death of Wahhaj's son. The defendants pleaded not guilty on Wednesday to child abuse resulting in death and conspiracy to commit child abuse. Prosecutors blame them for the death of three-year-old Abdul-Ghani.
Authorities claim the father took his three-year-old from the mother's home in Georgia. Wahhaj and Leveille are accused of denying Abdul-Ghani medical treatment. The child's mom said he suffered from hypoxic ischemic encephalopathy, but his father believed he was possessed by demonic spirits.
Abdul-Ghani died during a religious ritual on the compound to exorcise the spirits, prosecutors said. Instead, he died, but things didn't stop there. Investigators claim the boy was buried, buried in the belief that he would come back as Jesus.
This "Jesus" would have a message as to which societal institutions were corrupt and should end, he said. Accordingly, the child on the compound were allegedly train in how to use firearms. At least three of the adults–Morton, Leveille, and Subhannah Wahhaj–allegedly mentioned wanting to die in Jihad, according to the AP. Leveille's and Subhannah Wahhaj's comments were described as jokes, however.
[Screengrab via KRQE]
Have a tip we should know? [email protected]