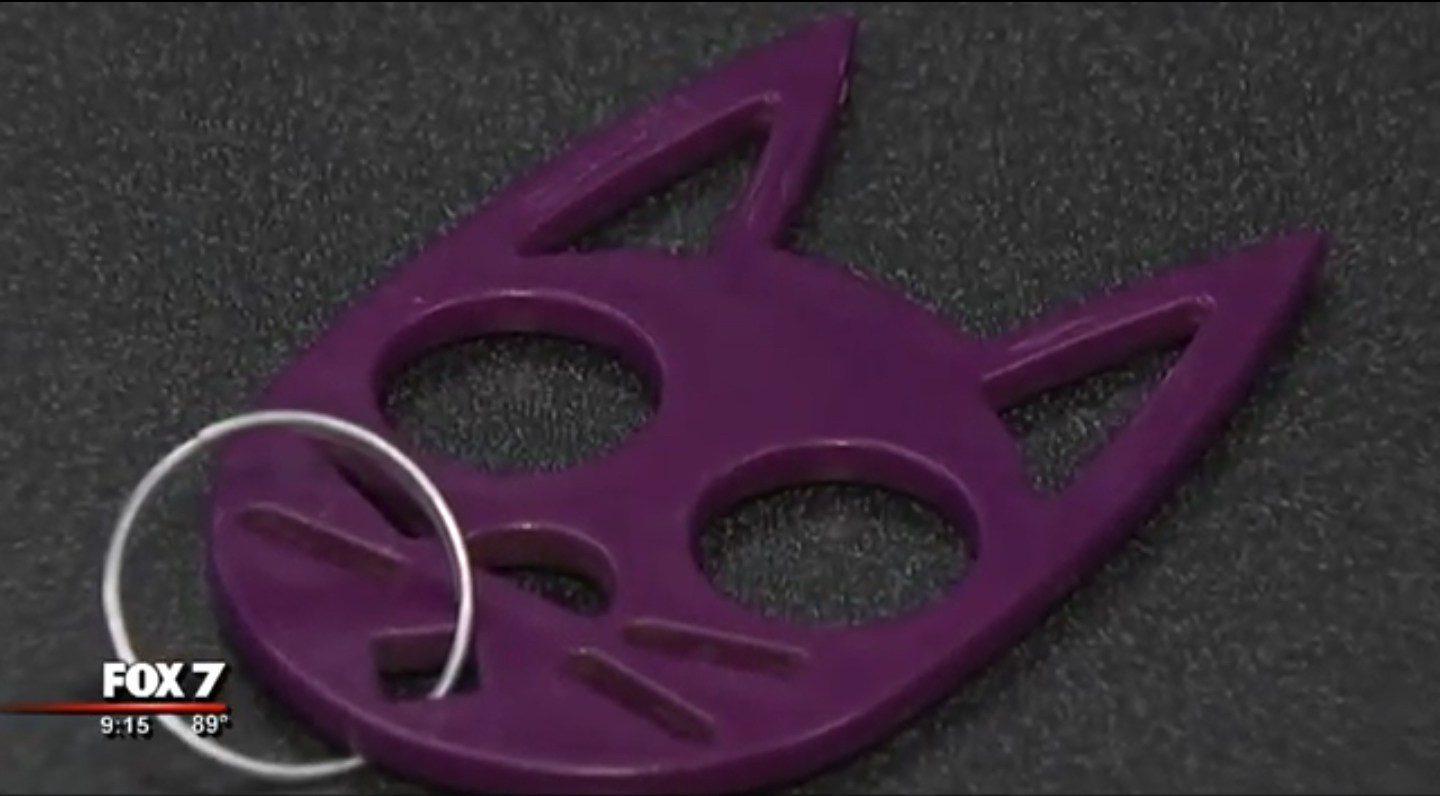 Self-defense is very much on the agenda in the State of Texas, even when it comes to what appear to be novelty accessories.
As many Texas women warm to the idea of carrying non-firearm weapons in case of the worst, authorities in the Lone Star State have moved to confiscate a spate of cute-looking but dangerously pointed keychains in the shape of a cat's head.
Travis County Sheriff Captain Craig Smith said he believes many women are buying the keychains just for the look while stressing their dangerous utility. Smith also noted that he's seen a significant increase in the number of themed self-defense keychains at the Travis County Courthouse in Austin. In comments to the local Fox affiliate, Smith said:
They're buying it to take care of themselves in the event that they are attacked. It just blends into the keychain when you take a look closer it's a novelty item it looks like a cat. I saw some are cats, some are dogs and even a pig. They're pretty sharp. It's a hard plastic. I saw some that are actually made out of metal and it's not going to bend it's not going to give. It's going to just penetrate the skin, the eyes or wherever else. Once you got it in your hands now there's a lot of force behind it that can inflict injury.
And that's kind of the point.
But possession of cat-, dog- or pig-shaped keychains could land owners in jail because Texas is likely to classify the novelty self-defense weapons in the same category as brass knuckles, which in Texas–as in many states–are illegal.
Texas Penal Code §46.05(a)(3) prohibits the possession of any form of brass knuckles in Texas. The statute reads, in relevant part:
A person commits an offense if the person intentionally or knowingly possesses, manufactures, transports, repairs, or sells…knuckles
The same statute defines "knuckles" as, "any instrument that consists of finger rings or guards made of a hard substance and that is designed, made, or adapted for the purpose of inflicting serious bodily injury or death by striking a person with a fist enclosed in the knuckles." Possession of brass knuckles qualifies as a class A misdemeanor with penalties of up to one year in state jail, a $4,000 fine, or both.
Austin resident Layne Berkley noted, "It's a little bit ridiculous. These are clearly meant for self-defense. I think it's a little absurd that you can be fine with concealed and carry even on school campuses but this little metal key fob can get you in big trouble."
[image via screengrab/Fox News 7]
Follow Colin Kalmbacher on Twitter: @colinkalmbacher
Have a tip we should know? [email protected]