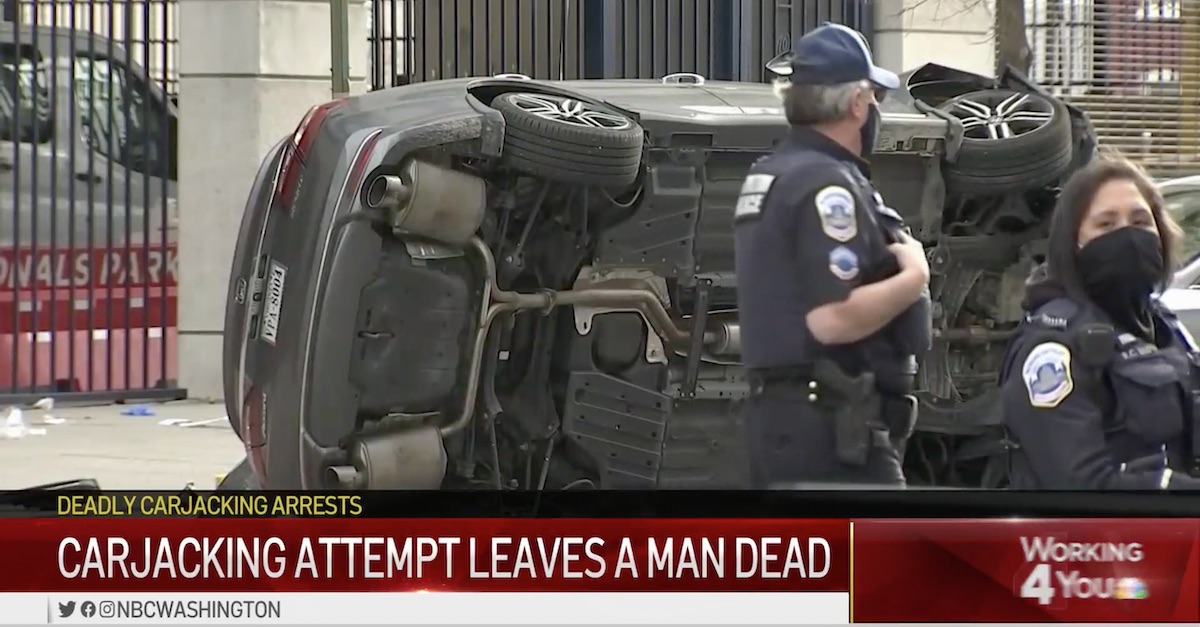 Two teenage girls armed with a stun gun have been charged with felony murder after the driver they attempted to carjack was thrown from his vehicle and killed, police say.
The suspects, only 13 and 15 years old, have not been named because they have not been charged as adults. The victim, identified as 66-year-old Springfield, Virginia man Mohammad Anwar, was behind the wheel of his car near Nationals Park in the Navy Yard neighborhood of Washington, D.C. when the suspects attempted the carjacking on Tuesday afternoon.
The Metropolitan Police Department said Wednesday that authorities responded to the scene around 4:31 p.m. and found the victim with life-threatening injuries. Police said Anwar was thrown from the car and later died at a hospital.
The suspects allegedly used the stun gun, causing Anwar to crash.
"The Detectives' investigation on the scene revealed that the suspects assaulted the victim with a taser while carjacking the victim which resulted in a motor vehicle accident," police said.
As you can see in the image from NBC Washington above, the vehicle flipped on its side. A witness reported seeing Anwar struggle with the girls who attacked him before he crashed the car.
Authorities said the 13-year-old girl is from Southeast, D.C. and the 15-year-old girl is from Fort Washington, Maryland. The juveniles attempted to flee the scene on foot after the crash, but they were caught by police with the help of a National Guard member in the area, the Washington Post reported. The victim was described as a ride-share driver.
The teens now face charges of armed carjacking and felony murder.
A GoFundMe campaign created to help Anwar's family has raised more than $79,000 as of Thursday morning. A message identified him as a Pakistani immigrant, "beloved husband, father, grandfather, uncle, and friend" who was working as an UberEats driver the day he was killed:
Mohammad Anwar was a hard-working Pakistani immigrant who came to the United States to create a better life for him and his family. He was simply at work yesterday evening, providing for his family, when his life was tragically taken in an appalling act of violence. The details are still being investigated, however we know that Anwar was working on an UberEats delivery when two assailants attempted to carjack him in Navy Yard.

Anwar was a beloved husband, father, grandfather, uncle, and friend who always provided a smile when you needed one. He leaves behind a family, near and far, who cherish, love, and miss him dearly.

Words can not describe how our family is feeling currently. Devastation, confusion, shock, anger, heartache, and anguish are just a few that come to mind. We will carry him with us always, but it doesn't take the pain away of losing him so tragically and so unexpectedly soon.

Anwar was the financial provider for his family. We would like to provide a traditional Islamic funeral for him and assist his family with the loss of income.
[Image via NBC Washington screengrab]
Have a tip we should know? [email protected]