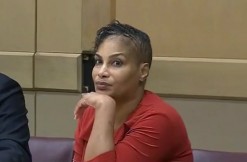 A Florida woman is on trial for allegedly killing her cop boyfriend in the back, but she claims it was self-defense. Tiniko Thompson, 48, was in a serious relationship with Carl Patrick of the Miami Police Department. That was until May 2014, when she killed him at their Pembroke Pines home.
As Good Morning America lays it out, Thompson claimed Patrick was abusive, sticking a gun in her face on the night of her death. She said she only killed him by accident in the ensuing struggle.
But prosecutors said it's just another one of her lies: She'd allegedly faked a pregnancy for 13 months (not a typo) so she could convince Patrick to move into together. And if it was really self-defense, they said, why was he shot in the back? Their belief: Thompson allegedly shot him when he confronted her about the "baby."
His wound wouldn't have been fatal provided he got immediate medical attention, except Thompson allegedly didn't call for help. Instead, she went in and out of the home at least five times while he bled to death, prosecutors claim.
"I love Carl with all my heart," she said, crying, to investigators during an interrogation.
Speaking to GMA on Thursday, LawNewz.com founder Dan Abrams said that prosecutors need to prove 1) Patrick really was hit in the back, and 2) why Thompson failed to call 911 right after the shooting.
That latter point might be harder to prove: She provided a reason why she didn't get an ambulance.
"But her claim is going to be is that she wasn't thinking rationally," Abrams said. "That she freaked out, in essence, and left, et cetera. So just what she did after the fact, I don't think is going to be enough for a conviction. They are going to need that medical evidence, I think, to be clear that he was shot in the back. If that's the case, this is going to be a stronger case for prosecutors."
Thompson faces one count of second-degree murder. That means a possible life sentence.
–
Follow Alberto Luperon on Twitter (@Alberto Luperon)
Have a tip we should know? [email protected]