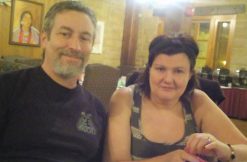 A prosecutor in Missouri has filed charges in connection to the shooting death of KKK leader Frank Ancona in Missouri. The suspects: the victim's own family, the St. Louis Post-Dispatch reports. Wife Malissa A. Ancona, 44, is being held in the St. Francois County jail on a 24-hour hold while her son Paul Jinkerson Jr. is in custody on an unrelated warrant.
Possible charges include first-degree murder, armed criminal action, tampering with physical evidence and abandonment of a corpse. St. Francois County Prosecuting Attorney Jerrod Mahurin didn't publicly suggest a motive.
"I don't believe it for a second that he did it," Jinkerson's attorney Eric Barnhart told the outlet. He's representing the stepson on unconnected charges for property damage and attempted stealing, but said he didn't know if he'd be defending him on the possible murder charge.
Frank Ancona, the head of a local KKK group, was found dead Saturday after being missing for several days. Medical examiners found that he died from a gunshot to the head.
His wife told police that she last heard from him on Wednesday, according to a Daily Journal report from Sunday. She said his workplace sent him on a delivery job traveling across Missouri, but that employer denied that. Investigators also questioned her on why she allegedly made a Facebook post asking for a new roommate. She reportedly told them that husband planned on divorcing her, so she was looking for help paying the rent.
[image of Frank and Malissa Ancona via Facebook]
Have a tip we should know? [email protected]