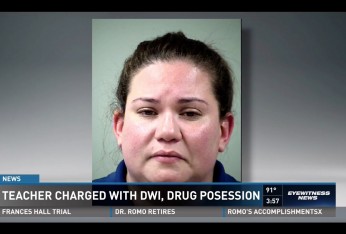 A fourth grade teacher in Texas allegedly told police a "bad day" at school is what led to her arrest for drunk driving and drug possession.  The 34-year-old woman was pulled over early Wednesday morning after cops say she was speeding in a construction zone.
Veronica Aguero was charged with driving while intoxicated, possession of marijuana and cocaine, according to KENS 5 Eyewitness News.
The news station says it obtained a warrant that details the police officer's account of the incident.  According to the warrant, an officer with the San Antonio Police Department stopped Aguero around 2:15 a.m. after observing her vehicle speeding through a construction zone on I-37.  The officer also stated that he observed the vehicle hit a construction barrel and a cement wall as it was swerving from lane to lane prior to the stop.
Construction workers were reportedly on the job, doing overnight highway work at the time of the incident.
The arresting officer said he smelled alcohol on Aguero at the time of the stop and she admitted to drinking at a friend's house that evening "because she had a bad day."
Upon arrest, officers say they found cocaine in her pockets and purse, along with a marijuana cigarette.
Harlandale ISD, the district where the teacher is employed, released a statement about the arrest on Wednesday:
Today the District received a report of possible inappropriate conduct by a District employee. As required by law, the District reported the information to the appropriate state education agencies. Because of the sensitive nature of these allegations and out of respect for the employee's privacy, further comment will not be made. The wellbeing of all Harlandale ISD students is paramount. The District takes these matters seriously and will cooperate in any investigation.
WATCH:
Have a tip we should know? [email protected]