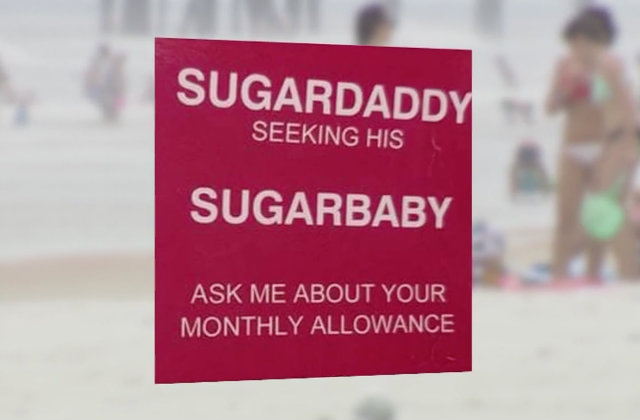 The 73-year-old Florida man was banned from a local beach after handing out a salacious business card to an 18-year-old woman, then presenting a bra cup to a 16-year-old girl, say authorities. "Sugardaddy seeking his sugarbaby," the card read according to The Daytona Beach News Journal. "Ask me about your monthly allowance."
According to Beach Safety Ocean Rescue officers in Volusia County, the girl claimed the man approached her and two 18-year-old friends with the business cards on Saturday. He gave the card to one of her friends after he learned their ages. Then he allegedly held up a bra pad, and said he was looking for someone to fill it. The girl claimed he told her she "would be perfect," and should reach out to him when she turned 18.
He wasn't charged with a crime or arrested. Officials just banned him from the beach for six months under a Volusia County ordinance that prohibits soliciting (eg. handing out business cards).
In a Wednesday interview with the Journal, the man, identified as Richard Basaraba, said it was just a misunderstanding. He had no intent to do anything illegal, and wouldn't even have the money to be a sugar daddy if a woman agreed with his cheeky offer.
"I'm really upset about it," he said. This really knocked me for a loop."
He said he used the business cards, a t-shirt with a similar message, and a bra pad (which he found on the beach) as a conversation starter with women.
"I would go up to a group of women of all ages — 20s, 30s, 40s, 50s — 'Honey, I'm looking for my Cinderella. I did not find a glass slipper on the beach but I did find this,'" he said. According to him, he'd put the bra pad up to a well-endowed woman, say "obviously, this isn't you," then turn to a flatter woman and suggested it might fit her.
"Ninety-five percent of women found it hilarious," he said. "Maybe the younger ones didn't as much but the older ones did."
He claims that in Saturday's incident, the teens initially stopped him, and that he only gave his business card to one of the 18-year-olds. He "engaged" with the 16-year-old, before learning her age, because of the size of her breasts, he said.
"I did make the mistake of saying, 'You're the cutest one here. Call me when you're 18,'" he said.
Basaraba said he would apologize to the teenager and her mother if given the chance.
"I am so embarrassed," he said.
[Screengrab via CBS 12]
Have a tip we should know? [email protected]