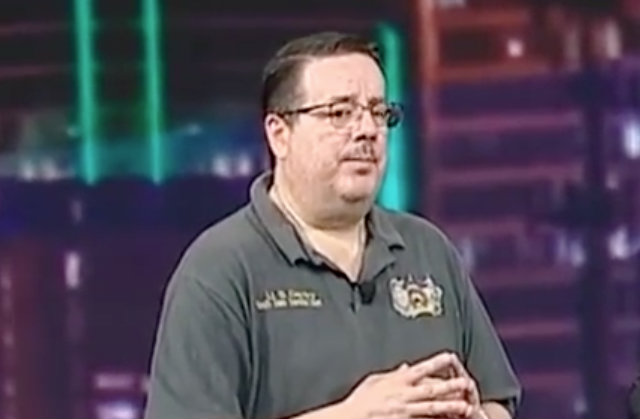 Right now, cops aren't saying exactly how Steven Gentry, 50, died in a suspected murder-suicide, according to The Dallas Morning News. He and Donnella Heads, 31, who is believed to be his wife, were found dead Wednesday inside a locked apartment in Dallas. The cause: apparent gunshot wounds. Police aren't saying who allegedly did what, and the medical examiners are scheduled to perform autopsies on Thursday.
It's a murky end for Gentry, a former civilian employee with the Dallas County Sheriff's Department. To say his law enforcement career was "rocky" is an understatement. A manager in a local jail, he got fired in 2010 for allegedly using cameras to spy on female inmates in the shower. He appealed the decision, and got his job back that same year because a civil service commission determined that he never received a copy of the complaint against him, even though he was told about it. Sheriff's spokeswoman Melinda Urbina told the Morning News that Gentry once again got fired last July for an on-duty "alcohol-related cause." He appealed the civil service commission, and was pretty much successful. They changed his punishment to suspension without pay so he could resign without the mark on his record. Urbina said he didn't work with the department after July.
It seems like Heads married Gentry last December. Gentry's profile picture on Facebook shows them together, holding a certificate of marriage. An actress and model, she went by the name Donnella Nella Gentry on the social media site, and had two children.
"I'm a queen raising two kings trying to enjoy my destiny," she wrote. "im living out my Dreams!!"
Gentry divorced another wife in 2002, according to the Morning News.
[Featured image screengrab of Gentry in 2016 via the TD Jakes Show]
Have a tip we should know? [email protected]