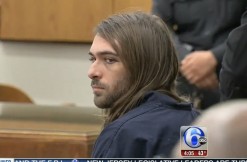 A missing 3-year-old's body was discovered in a park, and now his father is on trial for his murder. But the prosecutors are putting together a story that makes this sick allegation worse.
At a Tuesday arraignment, prosecutor Christine Shah said D.J. Creato killed his son, Brendan Creato, to improve his relationship with a teenage girl.
Dad allegedly started dating the 17-year-old girl in June 2015. She went to college in September, and according to prosecutors, grumbled that Creato had biweekly custody of his son. Somehow the sticking point in the relationship was that she didn't like children, not that she was a kid herself.
The story gets more upsetting when Creato became allegedly jealous of a college boy who hung out with his girlfriend. This got him so riled up, he reportedly broke into her social media accounts, and also posed as a girl online to tell the college boy never to bother his girlfriend ever again.
Shah said the girl threatened to break up. Creato begged her to stay:
Brendan went missing from Creato's Haddon Township house in New Jersey early Oct. 13. He was discovered in a wooded section of Cooper River Park. He was partially submerged in water.
Creato's lawyer, Richard Fuschino, said the state's case was weak.
"Circumstantial is the only word I can think to use," Fuschino said at the arraignment. He questioned why Creato would share his girlfriend problems with police if he had really been guilty.
Medical examiners couldn't pin down Brendan's cause of death. They said his brain showed lack of oxygen before passing away, but that could've been caused by anything: drowning, smothering, or asphyxiation. The fresh bruise near his collarbone apparently didn't help them explain things.
Creato faces a bail of $750,000, but he can't leave the state even if he coughs up the money. And then there's the possible life sentence if he's convicted for killing his own son.
[h/t ABC 7 in NY]
–
>> Follow Alberto Luperon on Twitter (@Alberto Luperon)
Have a tip we should know? [email protected]