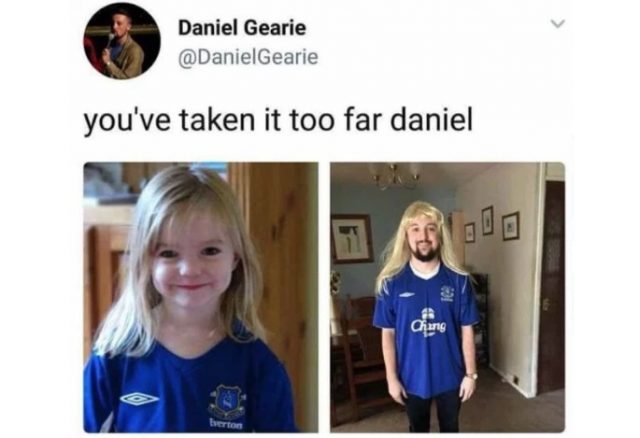 A man in Scotland balled up a map containing the bounds of decency this Halloween by dressing up as a presumed-dead child who disappeared over a decade ago.
Madeleine McCann went missing in May of 2007, while her parents were vacationing in Algarve, Portugal. She was apparently left in the family's rented apartment with her brother while their mother and father went out drinking at a tapas restaurant on the night she disappeared.
Her disappearance was heavily reported at the time–and subsequently promoted by her parents–and a bevy of internet sleuths shared competing stories, accusations, and, eventually, so-called sightings of the girl for many years following her disappearance.
Madeleine's parents, Kate McCann and Gerry McCann, became prime suspects for the hordes of social media users obsessed with the young girl's fate. They were also subjects of investigations by both British and Portuguese police. Finally, however, the lead inspector was removed from the case and authorities began to backtrack on their initial accusations. This was in 2007. The McCanns and another suspect were cleared and the case was closed in 2008.
Now, apparently, Madeleine McCann will be remembered as a Halloween costume idea gone wrong.
Scottish Twitter user and 25-year-old man Daniel Gearie, posted a photograph of himself dressed up Madeleine for All Hallows' Eve this year next to a popular photo of the girl which circulated while interest in her case was at a fever pitch. Gearie's photo showed him wearing a blue Everton football club jersey and a blonde wig. It was captioned, "you've taken it too far daniel" and prompted almost immediate scorn across the pages of British isles tabloids.
Kate and Gerry McCann, for their part, registered their displeasure as well. Through a spokesperson they said, "Kate and Gerry think he's an idiot and at his age should know better. What he did was deeply offensive and cruel."
Gearie spoke with Metro.co.uk and apologized for his costume. He said:
There is no hiding from what I did, I have to hold my hands up and take responsibility for my own actions. I am genuinely sorry for the hurt that I have caused to my family over the past few days and hope that one day they and anyone else that I hurt can forgive me. For now though I have to reflect on who I currently am and how I can better myself as a person.
His Twitter account is now set to protected.
[image via screengrab/Twitter]
Follow Colin Kalmbacher on Twitter: @colinkalmbacher
Have a tip we should know? [email protected]