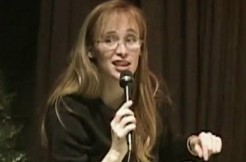 Who killed Paige Birgfeld? Ask Colorado prosecutors and they'll tell you it was Lester Jones. The 65-year-old man is on trial for her murder, and the jury is now deliberating his fate. But if he did it, how did it happen? 20/20 is examining this shocking case in Friday's season premiere.
Birgfeld went missing in 2007, her car lit on fire. A hiker found her skeletal remains in 2012. This didn't lead to any arrests until police started looking into something the mother-of-three did on the side: sensual massage for pay. She was an escort.
Police believe Jones was a client. Surveillance footage obtained by ABC News shows Jones admitting that she performed naked massages on him.
Her friend Carol Linderholm said Jones made an appointment with Birgfeld the day before she went missing, and for some reason, she was worried he'd found out the details of her personal life. She asked Linderholm to go on her behalf. Linderholm's first impression of Jones: "Fear. He's a very large, overpowering person." She said Jones wanted sex, but she declined. She also said he seemed obsessed with Birgfeld.
Jones was arrested in 2014. He pleaded not guilty, and his defense claims one of Birgfeld's other clients could be the killer.
20/2o premieres Friday at 9 a.m. EST.
Update – 09/09/2016, 4:31 p.m. EST: The judge declared a mistrial because of a hung jury.
–
Follow Alberto Luperon on Twitter (@Alberto Luperon)
Have a tip we should know? [email protected]