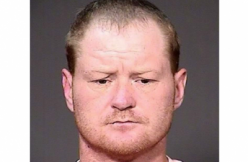 A 22-year-old woman and her boyfriend, 35-year-old Joseph Christen Thoresen, have been charged in the murder and beheading of her alleged rapist.
The woman allegedly told investigators all about the killing, KARE reports. The story is a bit convoluted. The victim, David Haiman, apparently voluntarily agreed to undergo payback for allegedly raping the woman. He reportedly let himself get tied up and beaten at her and Thoresen's Grand Rapids apartment.  After that, the three went driving to the city of Deer River to smoke pot and meth. After Haiman made disrespectful comments about the couple, Thoresen allegedly killed him with a baseball bat and machete. Police say he cut off his head with a knife, and dumped it in the woods.
They ended up in police custody after a June 24 traffic stop found Thoresen in Haiman's car, WCCO reports.
The woman has now been charged with being an accomplice to second-degree murder after the fact, and third-degree assault. Thoresen faces 40 years behind bars for one count of second-degree murder.
–
Follow Alberto Luperon on Twitter (@Alberto Luperon)
Have a tip we should know? [email protected]