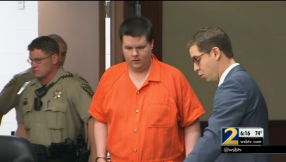 Justin Ross Harris, the Georgia father accused of intentionally letting his 22-month-old son, Cooper Harris, die inside a hot car, has been indicted on additional charges. The 34-year-old was indicted Friday on eight new criminal counts, including two counts of sexual exploitation of children and six counts of dissemination of harmful material to minors—this, in addition to the murder trial of his son.
The former Home Depot web developer is accused of possessing lewd photographs of underage girls, sending nude photos to underage girls and engaging in sexually explicit chats with underage girls.
Harris' attorney, Maddox Kilgore, expressed concern over the legitimacy of the indictment, saying, "We are concerned that the timing of this indictment is a calculated maneuver to inflame public opinion against Ross on the eve of jury selection." In the same press release, Kilgore drew attention to the fact that Cobb County District Attorney Vic Reynolds has been in possession of Harris's cell phone for over two years, inferring that the timing of the indictment is suspect.
Reynolds identified the root of the indictment, and subsequent charges, in a statement, attributing them to "advances in electronic forensic analysis in conjunction with recent interviews of newly discovered victims." He also said, "[h]ad the state delayed charging any further, prosecution of some of the charges would have barred by the statute of limitations," he said.
Harris faces charges of murder, malice murder and child cruelty in the death of his son. Jury selection is set to begin on April 11.
[h/t ABCTV]
Have a tip we should know? [email protected]