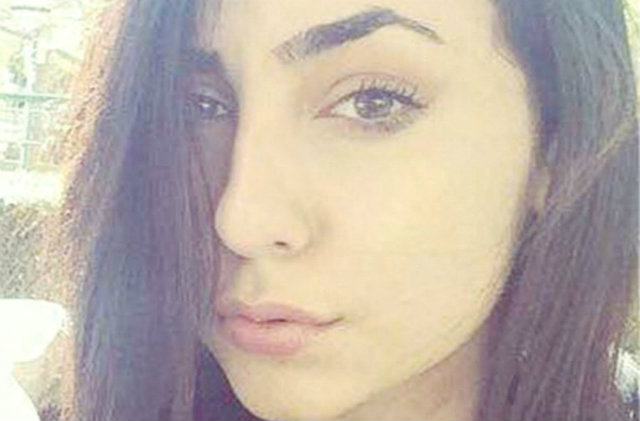 Police say Henriette Karra's dad killed her for dating a Muslim. 
"Forget about her, let her go to hell," 58-year-old Sami Karra told wife Aliham the night before their daughter' death, cops claim according to Haaretz. "It's not worth another shekel to even chase after her. She's garbage. We need to whip her, throw her away like a dog and see how she does. She's already gone. I'm sick of her and you."
The conversation was caught on tape, cops said.
Henriette, 17, was found dead on June 13 at her parent's home in Ramle, Israel, just over 28 miles to Jerusalem. Her father stabbed her three times in the neck, police claim.
Investigators say that since she started starting her boyfriend last year, her home life was marked by threats and danger from her own family. The Karras were Christian. Henriette's boyfriend of a year, locked up in prison, practiced Islam. Sami hated the relationship, but the tipping point came shortly before her death, cops said. Henriette reportedly dropped 400 shekels ($113) into her boyfriend's prison canteen account, and told a relative she was going to become a Muslim too. This family member told the father, who then decided to take her life, police said.
They had already been estranged, police said. Mother Aliham told cops that in the eyes of her husband, Henriette's actions hurt the "family's honor."
In the indictment obtained by The Jerusalem Post, Henriette ran away from home in May because of threats and violence from her own parents. The violence allegedly continued even when she hid out with friends and her boyfriend's mother. A week before her murder, she told cops her own mom attacked her. The 17-year-old also refused help from police in another incident, where her father allegedly found her at her friend's home, and started attacking and threatening her.
Lawyers for Sami, who was charged Sunday, denied the accusation.
"It's no secret that the family had a bad relationship, so to speak, between the deceased and her family in light of the criticism her family had of her behavior," said a Ynet quote attributed to attorneys Shukri Abu Tabik and Giora Zilberstein. They argued this couldn't lead to murder. Their client just wanted to "reunite the family." The lawyers pointed out that Henriette's uncle and brother was also arrested and detained, but no charges were filed.
According to the attorneys, this shows "that they [police] are trying to patch together an indictment against Sami. There is no direct evidence that he participated in the murder and no forensic evidence. His shirt was sent to the forensic unit to search for blood remains, and the answer is unequivocal: The murder weapon was not caught, the police are trying very artificially to indict him, and I am sure that he will eventually be acquitted."
Haartz reports that the father has a "long criminal record." His last conviction came in 2004 for charges including intimidation, drug dealing, and possession.
[Image via Facebook]
Have a tip we should know? [email protected]