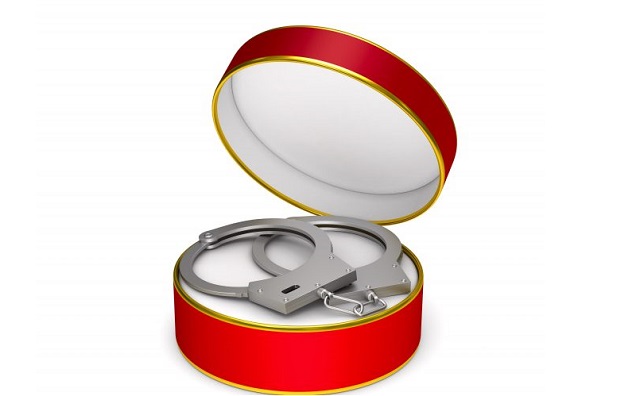 Let it never be said that lawyers are not held to the utmost ethical standards. Just a few days ago, attorney Nichole Ashley Collins was placed on temporary suspension by the Supreme Court of Pennsylvania. The reason? After Ms. Collins was fired from her law firm for suspected embezzlement, she allegedly returned to the firm, vandalized some office space, stole an employee's credit card, and used it buy a cache of sex toys. There were reportedly some forged checks too, but that's not nearly as hilarious.
Thirty-five year-old "Top 100 Lawyer" Nichole Ashley Collins is married to Dauphin County Deputy District Attorney Joel Hogentogler, so the case is being handled by the state Attorney General's office to avoid any potential conflict. That's probably a best for Collins, because the facts seem to indicate some very personal animosity between the Shaffer & Engle Law Firm and its former associate. An investigation of Collins revealed that Elisabeth Pasqualini, Collins' former coworker, returned from a holiday break to find her purse and credit cards missing, and "an unknown sticky substance" on her computer. A look into Pasqualini's credit card later revealed a shopping spree, including $300 worth of sex toys.
A suspension of her license isn't the only legal drama on Collins' horizon. Charges of burglary, forgery, theft, receiving stolen property, access device fraud, and criminal mischief have been filed against her before District Judge William Wenner. Right now, Collins is out on $25,000 bail, but will be reporting back to court next month.
According to Collins' resume, before joining Shaffer & Engle, she worked briefly at the Bureau of Professional and Occupational Affairs, which regulates medical, nursing, pharmacy, dentistry, and real estate boards. Collins' function? In her own words:
My primary responsibility was to draft recommendations to the board regarding whether or not disciplinary action should be taken against a licensee.
Well, at least she's familiar with the whole license-suspension process.
[Image via Ilin Sergey/Shutterstock]
Have a tip we should know? [email protected]
Elura Nanos - CEO, Lawyer Up; Columnist & Host, Law & Crime