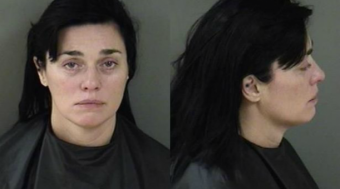 A Florida woman attacked her fiancé after discovering her engagement ring may have been regifted, according to police.
The Smoking Gun reported the 43-year-old woman was drinking wine and looking through some old photos of her soon-to-be husband when she noticed a picture of his ex-girlfriend wearing what appeared to be the exact same ring she currently had on her finger.
According to the arrest affidavit, the woman became enraged and charged into the bedroom to confront her fiancé, who denied the regifting accusation.  Seemingly unconvinced and still very angry, the woman threw a metal object at him, which struck him in the face, and then continued to chase after him and repeatedly attempted to strike him as he called 911.
When police arrived at the couple's residence they found the woman passed out drunk on the bedroom floor and noted the fiancé appeared to have suffered minor bruising and abrasions consistent with defense wounds.
Police determined the woman to be the "primary aggressor" and she was placed under arrest.  However, she fainted while being handcuffed and had to be transported to the hospital for observation before eventually getting booked in the Indian River County Jail.  She was released after posting $500 bail and is scheduled to appear in court on February 9.
No word on whether the wedding is still on.
[h/t The Smoking Gun ; image via Indian County River Sheriff's Office]
Have a tip we should know? [email protected]