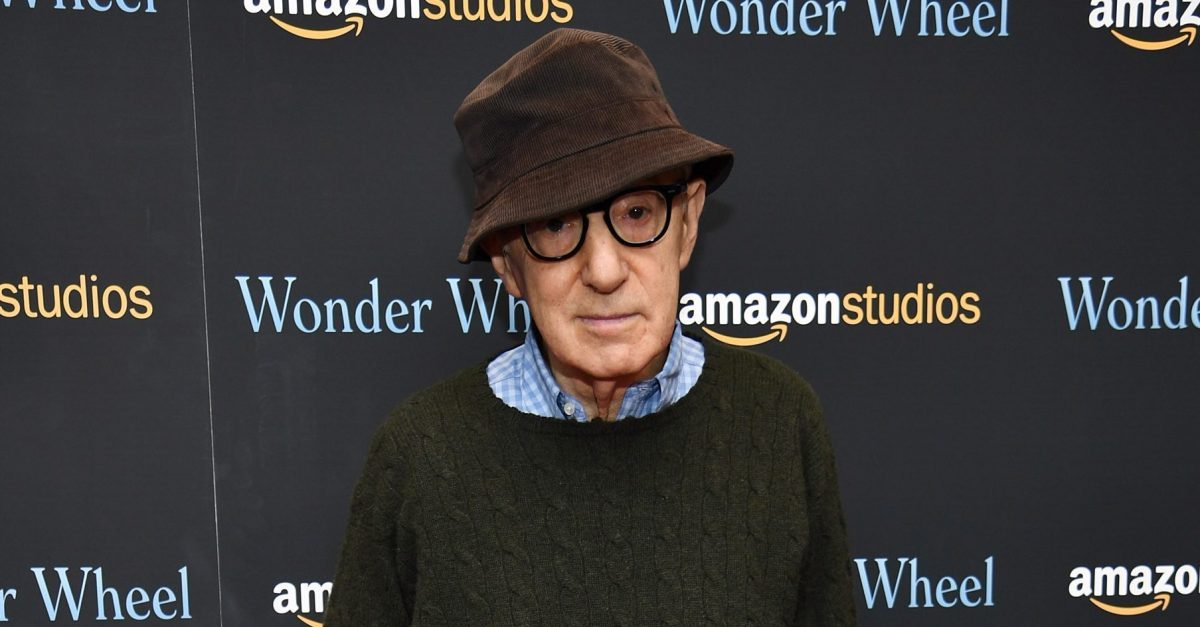 Filmmaker Woody Allen and his company Gravier Productions are suing Amazon after the online giants Amazon Studios and Amazon Content allegedly backed out of deals they had without legal grounds. Allen is accusing them of cutting ties with him due to allegations made against him in the past. Allen claims this is no excuse, because not only are the allegations against him "baseless," but Amazon already knew about them when the made the deals in the first place.
The allegations, while not explicitly described in the lawsuit, are likely related to the accusation that sexually abused daughter Dylan Farrow decades ago when she was 7 years old. Allen has always denied it.
The deals between the parties. include a multipicture film acquisition agreement and four separate film licensing agreements. The lawsuit says:
Amazon backed out of the deals, purporting to terminate them without any legal basis for doing so, while knowing that its actions would cause substantial damage to Mr. Allen, Gravier, investors and the artists and crew involved in making the films. Amazon has tried to excuse its action by referencing a 25-year old, baseless allegation against Mr. Allen, but that allegation was already well known to Amazon (and the public) before Amazon entered into four separate deals with Mr. Allen—and, in any event it does not provide a basis for Amazon to terminate the contract. There simply was no legitimate ground for Amazon to renege on its promises."
Under the agreements, the lawsuit says, Amazon agreed to "(i) finance the Allen Films, (ii) make minimum guaranteed payments to Gravier totaling between $68 and $73 million, (iii) pay Gravier additional amounts based on the success of the Allen Films, and (iv) distribute the Allen Films widely. "
After Allen already finished the film A Rainy Day in New York, starring Jude Law, Selena Gomez, and others, "Amazon Content simply refused to make its guaranteed payment and purported to terminate the Allen Film Agreements in their entirety." This was the first of the four movies covered by the agreements.
Prior to the deals, Allen had made his own movies, using his own financing sources. Amazon got him to cut ties with those backers, the complaint says, and to rely on them instead.
On June 29, 2018, the lawsuit says, Amazon told Allen that they were terminating their agreements with him and not distributing the movies covered by the deals. When asked by Allen's legal team for a reason, Amazon allegedly didn't cite any right in the agreements.
"Instead," the complaint says, "Defendants' counsel merely made the vague statement that Amazon Content's performance of the MAA became 'impracticable' because of 'supervening events, including renewed allegations against Mr. Allen, his own controversial comments, and the increasing refusal of top talent to work with or be associated with him in any way, all of which have frustrated the purpose of the Agreement.'"
When pressed for details, Amazon allegedly didn't respond.
Law&Crime reached out to Amazon for comment.
Allen also brings a claim of unjust enrichment, noting that Amazon benefited simply by associating themselves with him. He points to the success of his 2016 film Cafe Society, which was distributed by Amazon. He quotes the Los Angeles Times, which said the film's selection to open the Cannes Film Festival was "a landmark moment for Amazon and the man driving its ambitions to make entertainment a major draw to its Internet commerce site."
The agreements at issue in the lawsuit were made after the success of Cafe Society and its follow-up, Wonder Wheel.
"Amazon's leadership knew that its actions would cause substantial damage to my client, his production company and its hard-working employees. That is exactly what has happened," Allen's attorney John Quinn of Quinn Emanuel Urquhart & Sullivan LLP said in a statement sent to Law&Crime. "This behavior cannot go unchallenged and that is why we have brought this suit. As a matter of law, the facts here could not be clearer. Amazon has no defense and there is no doubt that Mr. Allen and his production company will prevail in this matter."
The complaint is seeking damages in excess of $68 million, which covers minimum guaranteed payments under the deals. It also requests any other general or special damages that would be proven at trial, plus attorneys' fees and costs.
Note: This article has been updated with a statement from Woody Allen's attorney.
Woody Allen v Amazon Complaint by on Scribd
[Image via Dimitrios Kambouris/Getty Images]
Have a tip we should know? [email protected]