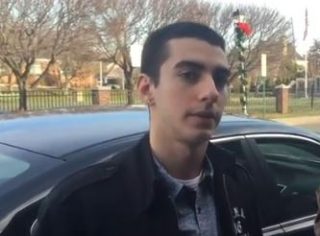 Vadim Imperioli, son of 'The Sopranos' actor Michael Imperioli, was arrested for allegedly spray painting a swastika in a dorm at Purchase College in New York.
School officials told The Journal News that they had been investigating the incident since the graffiti was discovered on November 20. College spokeswoman Betsy Aldredge said it was found on the dorm's bulletin board. School police were assisted by New York State officers in making the arrest, according to State Police Capt. Doug Larkin.
Imperioli was charged with criminal mischief, normally a misdemeanor, but Assistant District Attorney Catalina Blanco Buitrago said her office may upgrade it to a felony charge. This isn't his only current criminal case, as he is facing a larceny charge related to unauthorized use of a car. Imperioli also served three years probation for vandalism in California. He was in court on Tuesday for the larceny case, at which point Buitrago asked the judge to double his bail, which was originally $5,000.
It's unclear whether Imperioli is a student at Purchase College. The Journal News reported that his Facebook profile (which now appears to be deactivated) indicates that he is studying  film there, but his attorney said in court on Tuesday, "I don't believe he's still going to that school."
The arraignment for the swastika case is scheduled for January 17.
[Image via screengrab]
Have a tip we should know? [email protected]