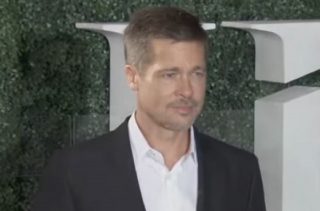 Back in September, news broke that the FBI was investigating Brad Pitt regarding alleged abuse of his son Maddox on a private jet. Details were unclear at the time, with Los Angeles police first said to have been looking into the matter, but it was quickly revealed that was not the case. However, it was true the FBI was involved, because the alleged incident took place in the air, which was under federal jurisdiction.
Then, there were reports that the the federal probe was off, then on again. On Wednesday, TMZ reported that the case has been laid to rest. The FBI's investigation has reportedly come to a close, and Pitt has been cleared.
"The FBI has conducted a review of the circumstances and will not pursue further investigation," the feds told TMZ. "No charges have been filed in this matter."
This comes two weeks after a report that a previous investigation by the Los Angeles County Department of Children and Family Services was ending, with the conclusion that Pitt did not abuse his son.
Pitt and Angelina Jolie are currently in the middle of divorce proceedings and a custody battle. While Pitt is looking for joint custody of their children, Jolie is seeking sole custody.
[Image via screengrab]
Have a tip we should know? [email protected]