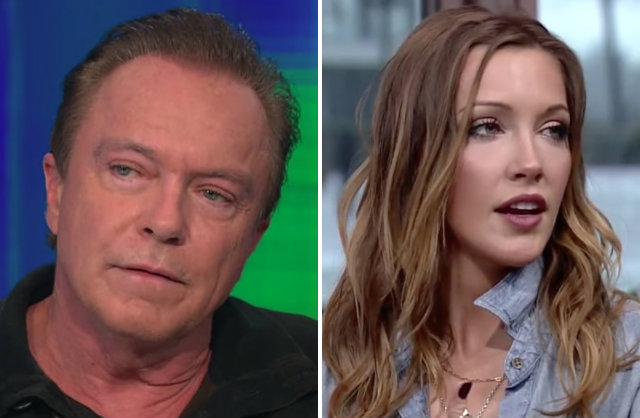 June 4, 2004: Actor and singer David Cassidy filed his last will and testament with Broward County, Florida. From the get-go, that document made a pointed exception. He explicitly cut out daughter Katherine Cassidy as a beneficiary. Not a mere omission. He did it several times in the text, obtained by Law&Crime. 
"All references in this Trust to my 'child or children' are to BEAU DEVIN CASSIDY and such references shall not include KATHERINE EVELYN CASSIDY nor any descendant of Katherine Evelyn Cassidy," the will stated.
That's the document filed Tuesday in a Broward County court, weeks after David Cassidy's Nov. 21 death from organ failure. He was 67.
By public accounts, father and daughter's relationship had started to repair in recent years. For example, he reached out to her for help (and promoted her then-show Gossip Girl) when he was on the Celebrity Apprentice in 2011.
He has spoken glowingly of her, in spite of their distance from one another.
"I've never had a relationship with her," the elder Cassidy told PEOPLE in a February interview, shortly after revealing his battle with dementia. "I wasn't her father. I was her biological father but I didn't raise her. She has a completely different life." He said he and his daughter weren't in contact, but he said he was proud of her (she's an actress).
So it wasn't surprising that she was at her father's side when he passed, and reported his last words.
Words cant express the solace our family's received from all the love & support during this trying time. My father's last words were "So much wasted time". This will be a daily reminder for me to share my gratitude with those I love as to never waste another minute….thank you.

— Katie Cassidy (@MzKatieCassidy) November 24, 2017
There's no public signs that the younger Cassidy plans on contesting the will, and she didn't immediately respond to a Law&Crime request for comment. Even if she did fight, though, it's an uphill battle.
"The exclusion of a child to inherit has to be specific, so that it's not treated as someone forgot to name a beneficiary," Marvin L. Solomiany, an attorney at the Atlanta-based Kessler & Solomiany Family Law Attorneys, told Law&Crime. "In this case, it does appear that it is valid as he specifically excluded her by name from his will so most likely its a valid exclusion. Of course, that does not mean that the disinherited child will not contest the will specially if facts can be shown that the relationship was repaired."
Rachel Stockman contributed to this report.

[David Cassidy screengrab via CNN, Katie Cassidy via The Rush via Shaw TV]
Have a tip we should know? [email protected]