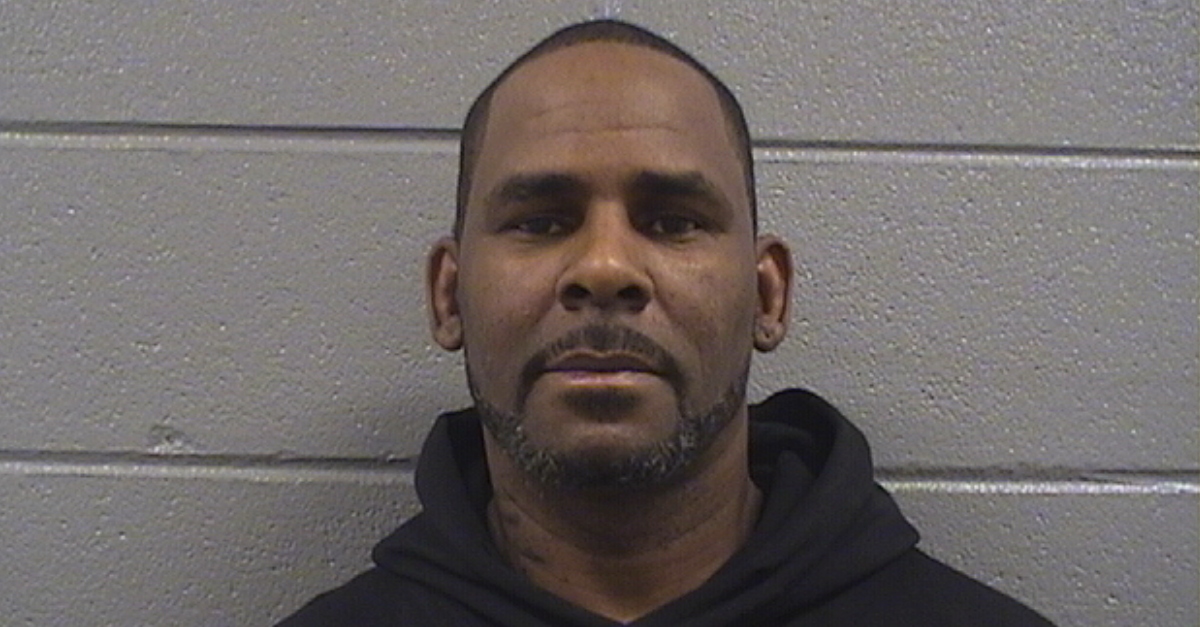 One of the alleged victims in the new R. Kelly indictment met the singer at his 2008 child pornography trial, prosecutors said in a bond proffer.
At the time, Kelly faced child pornography charges because video allegedly showed him sexually abusing a teenage girl. He was acquitted. Family members of the alleged victim were split over whether it was her. Four testified yes. Three said no. Jurors sided with Kelly.
The singer met another victim, J.P., at this 2008 trial, said prosecutors. A 16-year-old attended the proceedings and managed to get his autograph, according to the court document. She told him her age. He invited her to his house. Kelly then allegedly sexually abused her multiple times between May 1, 2009 and Jan. 31, 2010. Authorities claim DNA evidence supports the allegation.
Kelly is also charged with abusing two other minors and a 24-year-old woman. The adult, L.C., said she was working as a hairdresser in 2003. Kelly came in to get his hair braided, but said he now wanted a head message, prosecutors said. He then allegedly sexually assaulted the woman, according to the bond proffer.
R.L. was between 14 and 16 during the alleged illicit encounters with Kelly. One of the incidents was allegedly caught on tape. Prosecutors said her aunt identified her through the footage.
A fourth victim, H.W. was 16 at the time. She claimed to have met Kelly at her 16th birthday party, according to the bond proffer. Prosecutors said she told him her age. His manager allegedly gave her Kelly's business card with the singer's phone number, and he said that Kelly wanted her to call him. Prosecutors said the mom tried to intervene–she took the card and told the manager the girl was only 16–but the girl later took the card from the mom's purse and called the singer. This allegedly led to a number of encounters between May 26, 1998 and May 25, 1999.
Kelly's attorney Steve Greenberg is fighting the allegations in court.
"He's a rock star," the lawyer said after court on Saturday. "He doesn't have to have non-consensual sex."
"He's a rock star. He doesn't have to have non-consensual sex," said R. Kelly's lawyer Steve Greenberg in a press conference after judge sets Kelly's bail at $1 million. https://t.co/8yZJr9ewUM pic.twitter.com/wJA3B3rjec

— CBS Chicago (@cbschicago) February 23, 2019
Bond was set Saturday at $1 million, though he only needed a tenth of that to go free. Another court date is set for Monday.
[Mugshot via Cook County]
Have a tip we should know? [email protected]