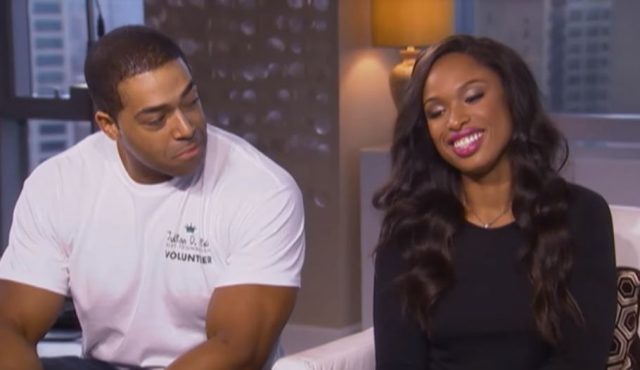 Singer and actress Jennifer Hudson received an order of protection against her ex and father of her son, David Otunga, claiming Otunga showed "aggressive, threatening and harassing behavior," TMZ reported. Otunga, a Harvard Law grad and former attorney with Sidley Austin, now an announcer and former wrestler with WWE, denies the allegations.
The couple had been engaged since 2008, reportedly breaking up several months ago, with Otunga still living in their home while they work out a custody arrangement that has hit a recent snag. With the current allegations as order of protection, Otunga is barred from living in the house—which Hudson owns—for the time being.
Hudson claims that on Wednesday, Otunga repeatedly called her, upset that she was supposedly romantically involved with one of her producers (she denies this). Later that day, she claims, when she returned home, an angry Otunga pushed her out of the master bedroom. She claims their son and an assistant witnessed the incident.
Hudson reportedly went to court on Thursday to obtain the order of protection. That night, officers showed up at the house and told Otunga he had to leave.
In court documents, Hudson also claims that Otunga has left a gun and holster on a kitchen counter "to taunt, intimidate and frighten me, which he absolutely accomplished." He reportedly says they were movie props, as he is also an actor.
"Mr. Otunga has never abused or harassed Ms. Hudson or their son," Otunga's lawyer, Tracy Rizzo, told TMZ. In a statement, Rizzo said:
David Otunga has been trying to negotiate the terms of an amicable parenting agreement with Ms. Hudson for several weeks now. However, when it became apparent to Ms. Hudson that Mr. Otunga would be the parent granted residential care of the child, as a result of Mr. Otunga being the child's primary caregiver while Ms. Hudson pursues her career all over the world, Ms. Hudson decided to file a meritless Petition for Order of Protection in an effort to gain an unfair advantage in the custody dispute.
The current order of protection prohibits Otunga from contacting his son.
[Image via OWN screengrab]
Have a tip we should know? [email protected]