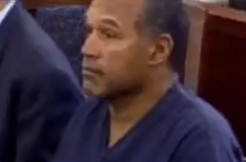 An infamous murder suspect meets an infamous health problem. A doctor says OJ Simpson's alleged behavior is linked to CTE: chronic traumatic encephalopathy. Dr. Bennet Omalu, depicted in the film Concussion by Will Smith, thinks Simpson's alleged and proven criminality was caused by his football career.
Simpson was a running back in college and the NFL. And as football players do, he got tackled, sustaining blows to the head. After years of this, Omalu told Good Morning America on Friday, Simpson "more likely than not suffers from CTE," which causes a load of depressing symptoms. Things like dementia and memory loss, and scarier things like explosive behavior, impaired judgement, and criminality. It's been linked to dangerous careers like hockey, pro-wrestling, and of course, football.
Omalu admits he is not completely sure about his diagnosis. He has never personally examined Simpson, and CTE can only be diagnosed after death.
But it remains intriguing. Simpson himself made a written statement declaring that numerous blows to the head might've affected his behavior for the worse. Notably, this was after he was convicted in 2008 of armed robbery and kidnapping.
You probably remember that Simpson was acquitted in 1995 for the murders of Nicole Brown Simpson (his wife), and Ronald Goldman. A jury ruled against him in a 1997 civil suit about the same case. Now this story is being featured in the upcoming film, American Crime Story, where he's played by actor Cuba Gooding Jr.
It could be that some defendants would attempt CTE as a defense, but LawNewz founder, Dan Abrams, insists it wouldn't work.
"Not as a defense, per se," Abrams told Good Morning America. But defendant could use a CTE claim as a mitigating factor to reduce a sentence. Again, this and similar brain diseases wouldn't get anyone declared not guilty. But a shorter sentence after conviction? That's quite possible if the judge accepts the explanation.
–
>> Follow Alberto Luperon on Twitter (@Alberto Luperon)
Have a tip we should know? [email protected]