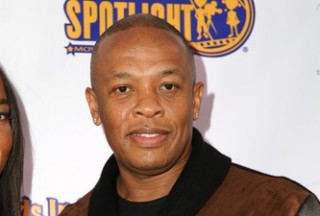 A charity fundraising company is suing rappers Dr. Dre and Flo Rida for fraud, after they contend the celebrities both failed to make their committed appearances at an event, even though their entourages enjoyed thousands of dollars of free passes. According to Courthouse News, City Project did not want either entourage at their Grammy party at the Playboy mansion, but agreed to have them and give them two cabana rentals, two parking passes, and 33 backstage passes as compensation for Dr. Dre, real name Andre Romelle Young, and Flo Rida, real name Tramar Lacel Dillard, appearing at the event.
The complaint, filed on March 25, accuses both rappers of never intending to appear at the event, claiming that they only agreed to it so they could get their friends into the party. Not only that, City Project asserts that the posses weren't exactly well-behaved guests. The complaint says, "Several members of the entourage lost control of their tempers, became very aggressive and offensive to other people, including yelling and physically assaulting other guests at the event."
City Project is suing for the value of the amenities ($390,000), plus additional money for lost profits and punitive damages. They argue in their complaint that Dr. Dre and Flo Rida should be held liable for fraud, breach of contract, negligence, and other claims.
Not only did Dre not show up, there's evidence on social media that he was nowhere near the festivities. According to the complaint, Dre was photographed at the Great Wall of China on the day of the party. So it would be tough for him to argue that he couldn't make it due to illness, or some unforeseen hardship.
The party, hosted by Sean "Diddy" Combs and featuring speaker Richard Branson, raised money for six different charities.
[h/t Courthouse News, image via Shutterstock]
Have a tip we should know? [email protected]