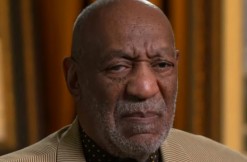 Lawyers for Bill Cosby claim racism is fueling the sexual assault allegations against him.
"Mr. Cosby is no stranger to discrimination and racial hatred," his lawyers said in a statement. They took special aim at lawyer Gloria Allred, who represents over 30 of Cosby's alleged victims. "When the media repeats her accusations—with no evidence, no trial and no jury—we are moved backwards as a country and away from the America that our civil rights leaders sacrificed so much to create."
His legal team says Allred is using racial bias to gin up a case against Cosby.
The 79-year-old comedian faces a June 2017 trial for the alleged sexual assault of Andrea Constand at his Pennsylvania home. It's the only claim that has led to criminal charges, but over 50 women have stepped forward with similar stories. Prosecutors want 13 of them to testify.
Allred called the statement "desperate," according to The Associated Press.
Cosby has long been criticized for his statements on anti-black racism. In 2004's infamous "pound cake" speech, he blamed black people's current social problems on bad parenting among African-Americans.
"These are people going around stealing Coca Cola," he told an audience at a NAACP-sponsored ceremony. "People getting shot in the back of the head over a piece of pound cake! Then we all run out and are outraged, 'The cops shouldn't have shot him.' What the hell was he doing with the pound cake in his hand? I wanted a piece of pound cake just as bad as anybody else. And I looked at it and I had no money. And something called parenting said if get caught with it you're going to embarrass your mother. Not, 'You're going to get your butt kicked.' No. You're going to embarrass your mother. You're going to embarrass your family."
[Screengrab via Bill Cosby]
–
Follow Alberto Luperon on Twitter (@Alberto Luperon)
Have a tip we should know? [email protected]