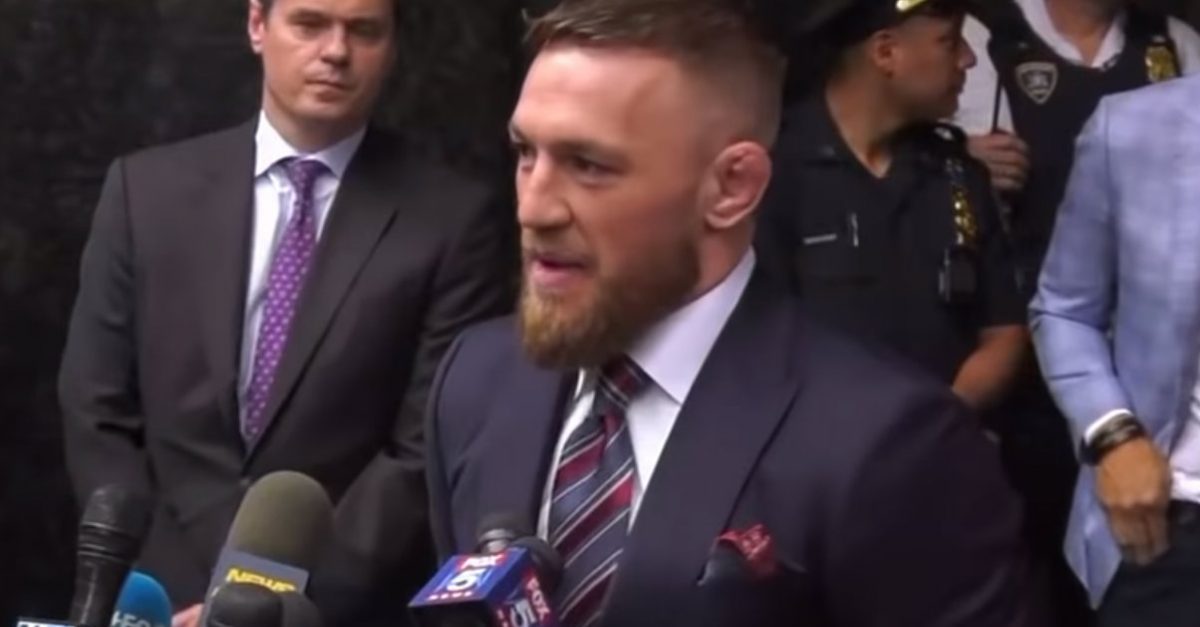 Controversial mixed martial arts fighter Conor McGregor got in some trouble in March of this year after he was allegedly caught on video knocking a fan's phone out of his hand and stomping on it. While the 30-year-old former Ultimate Fighting Championship lightweight champion is still facing criminal charges for the alleged incident, a related civil suit appears to have been taken care of.
It was March 11 when Ahmed Abdirzak saw McGregor outside of Miami's Fontainbleau hotel and tried to take a picture, he said in his complaint. The fighter apparently didn't take too kindly to this, allegedly grabbing Abdirzak's arm, punching his phone out of his hand, then forcefully stepping on the phone. McGregor is alleged to be the one in the blue shirt in the video below.
Abdirzak sued McGregor for $15,000 based on claims of assault, battery, and intentional infliction of emotional distress.
Now, however, Miami-Dade County court records show that Abdirzak has filed a motion to dismiss the case with prejudice. This indicates that the two sides may have agreed to settle the matter.
Law&Crime reached out to Abdirzak's attorney Santiago Cueto, but he has yet to respond. Should Cueto provide confirmation or any other new details, we will update this space.
McGregor was arrested following the incident on charges of strong-arm robbery and criminal mischief, but his lawyer said it was merely a "minor altercation."
The outspoken former champion announced his retirement from UFC in late March. That same day, it was reported that he is under investigation for an alleged sexual assault in Ireland.
[Image via ESPN screengrab]
Have a tip we should know? [email protected]