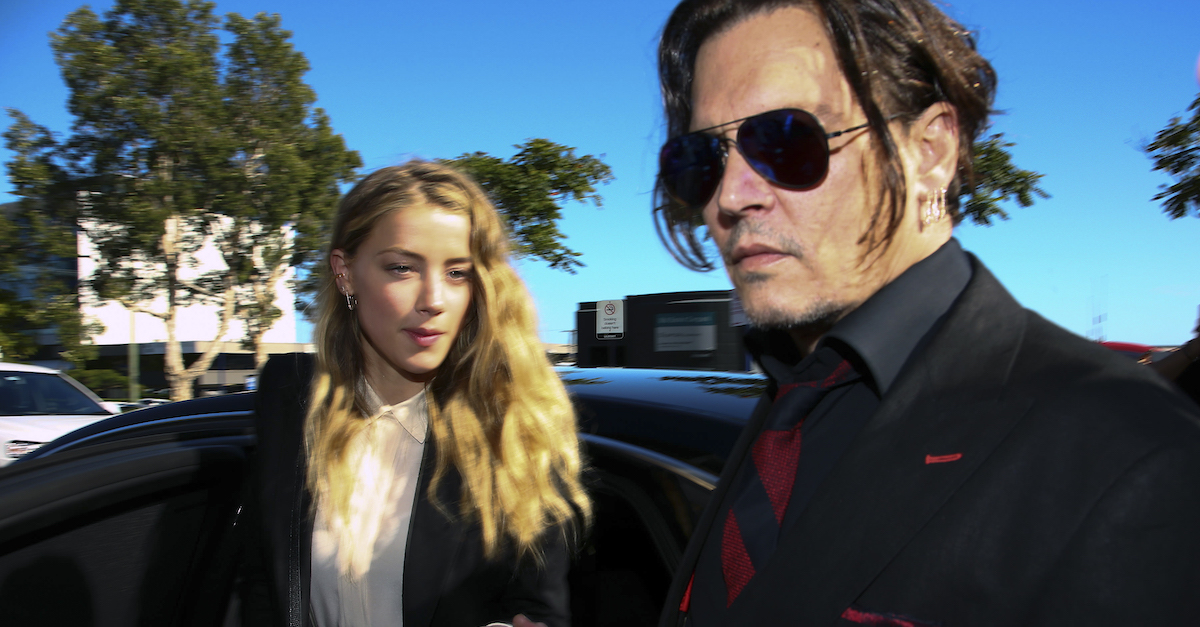 The court battle between Amber Heard, 32, and her movie star ex-husband Johnny Depp, 55, continues. After Depp filed a $50 million defamation suit against Heard over allegations that he physically and psychologically abused her, Heard responded by accusing Depp of threatening to kill her and asking for that suit's dismissal.
The graphic details came out Thursday. Depp and his attorneys have argued that Heard fabricated the domestic abuse allegations him in a 2018 Washington Post op-ed, which didn't name Depp but nonetheless relied "on the central premise that Ms. Heard was a domestic abuse victim and that Mr. Depp perpetrated domestic violence against her."
They accused Heard of exploiting the "#MeToo movement" to concoct an "elaborate hoax" for personal gain. Heard is now asking for a judge to dismiss Depp's defamation suit.
Heard's new filing in a Virginia court alleged that when Depp abused drugs like MDMA and alcohol, an alter ego dubbed "the Monster" would emerge.
"The vast majority of these occasions took place in Los Angeles, California, where Mr. Depp would alternate between sober and inebriated states, between lucid and delusional thinking, and between remorse and violence with Ms. Heard," the filing said. "About a year into our relationship, I began to witness Johnny abusing drugs and alcohol or would notice that he was drunk or high."
"He frequently went in and out of drug and alcohol dependency medical care, including 24-hour live-in medical aid for the last three years of our relationship," it continued. "Whenever he was using, I was worried for both of us."
Heard said when Depp was abusing substances he would get violent.
"He would become a totally different person, often delusional and violent. We called that version of Johnny, 'the Monster,'" the filing said, adding that Depp would "often would not remember his delusional and violent conduct after he came out of his drunk or medicated states."
In one particularly graphic passage, Heard accused Depp of strangling her.
"Johnny grabbed me by the neck and collarbone and slammed me against the countertop. I struggled to stand up as he strangled me, but my arms and feet kept slipping and sliding on to the spilled alcohol and were dragged against the broken glass on the countertop and floor, which repeatedly slashed my feet and arms," the filing alleged. "Scared for my life, I told Johnny, 'You are hurting me and cutting me.' Johnny ignored me, continuing to hit me with the back of one closed hand, and slamming a hard plastic phone against a wall with his other until it was smashed into smithereens."
"While he was smashing the phone, Johnny severely injured his finger, cutting off the tip of it […] Once I was able to get away, I barricaded myself in an upstairs bedroom," Heard claimed.
Shockingly, Heard said she went downstairs later and found Depp peeing "all over the house" and writing messages on the wall with his blood. She said that, on a separate occasion, Depp slapped her, grabbed her hair and said, "I fucking will kill you. I'll fucking kill you, you hear me?"
The pair divorced in 2017 after settling out of court for $7 million. She reportedly donated that money to charity. They had been married for just over a year.
Depp's lawyers previously said that he "never abused Ms. Heard" and that "her allegations against him were false when they were made in 2016."
"They were part of an elaborate hoax to generate positive publicity for Ms. Heard and advance her career," they said. They haven't yet commented on the latest filing.
[Image via Patrick Hamilton/AFP/Getty Images]
Have a tip we should know? [email protected]