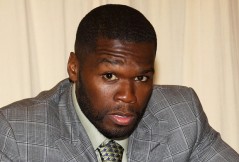 A judge recently banned Curtis "50 Cent" Jackson from bringing his smartphone into court, but that probably won't affect his case. TMZ reports that Judge Ann Nevins has banned electronic devices from the rapper's Chapter 11 bankruptcy hearings after he posted a picture of himself on social media…eating M&Ms….at a court hearing…with cash stuffed in his waistband.
He's since taken down the picture, which is tragic because it's a master class in trolling.
This echoes the images that got him in trouble in the first place. Last year, he posted pics on Instagram where he posed with hilarious amounts of cash, including stacks of bills arranged to spell, "BROKE." He's claimed all the money was fake, but this led to his creditors to ask, Hey, is this guy really broke? That's what the ongoing court hearings are about.
Judge Ann Nevins, who is presiding, wasn't amused by the in-court picture.
"While you're in this courthouse, there is nothing funny going on," she said in court Wednesday. She strongly discouraged him from posting similar pictures then on out, though she stopped short of handing down an outright prohibition. "This is very serious stuff. I would appreciate it very much if we could keep it that way."
Still, no fine or sanction was issued, and there's no sign it will affect the court case.
"If you misbehave in court, you can be held in contempt by a judge," bankruptcy attorney Robert Fox told LawNewz.com. But he's doubtful that 50 Cent's behavior opens him up to punishment. "I don't know if that's sanctionable."
Even if it was, it won't necessarily hurt his case. "They only look at your assets, really," Fox said. The rapper probably won't lose his case as long as he accurately declared his income in court filings. It's looking like the hearings are going his way, anyway. Judge Nevins says his finances are looking better as of Wednesday. The bankruptcy situation is still ongoing, however.
[h/t TIME]
–
Follow Alberto Luperon on Twitter (@Alberto Luperon)
Have a tip we should know? [email protected]